This page contains affiliate links, As an Amazon Associate, I earn from qualifying purchases (with no extra cost to you).
Learn more
Remote control electric car racing is a safe, fun hobby that many people worldwide enjoy. But many enthusiasts are always looking for ways to make their cars go faster. The good news is that you can improve a car's performance with a few simple upgrades.
Here's how to make an electric car go faster:
Change the pinion gear.
Change the spur gear.
Change bushings to ball bearings.
Replace your brushed motor with a brushless motor.
Clean your motor regularly.
Replace the battery.
Reduce the overall weight of your electric car.
Change your electric car's tires.
Check the electronic speed control.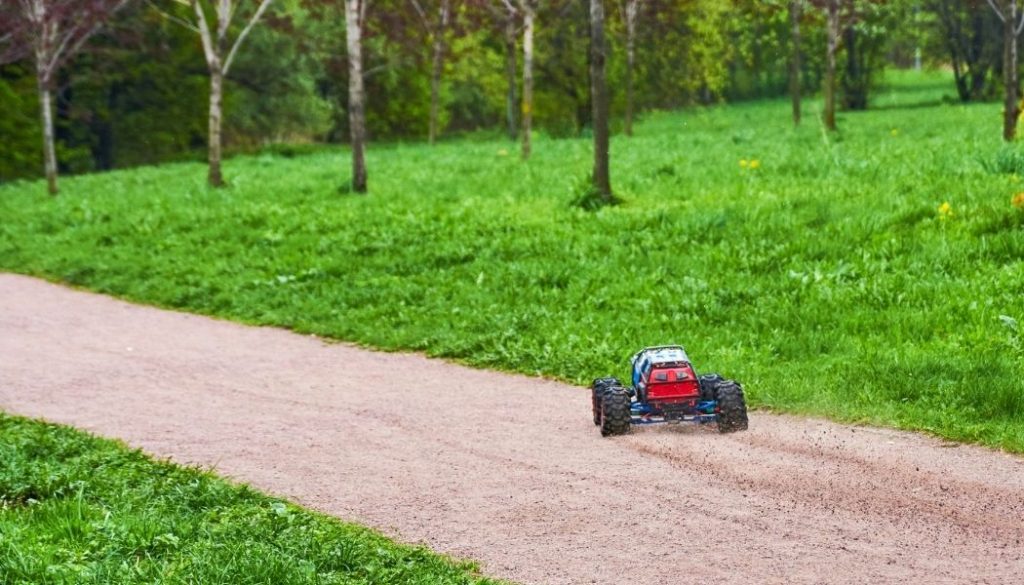 How Do we Make an Electric RC Car Go Faster?
I'll explore a few ways you can make your electric car go faster, considering both easy and more complex upgrades. I'll also consider some of the fastest electric car models on the market so you can hit the ground running right out of the box.
1. Change the Pinion Gear
An electric RC car has two types of gears; the pinion and the spur gear.
The bigger the pinion on your electric car, the faster it will go. If you want to make your electric car faster, increase the size of your pinion gear.
However, a larger pinion will put more pressure on your car's motor, causing it to heat up faster. So, start with replacing your pinion gear with one that is only one or two sizes larger. Run your RC car, test the temperature and then add a larger pinion if the temperature is at a moderate level.
It's important to note that a larger pinion may reduce the car's battery power and increase the motor load.
NOTE: A metal pinion gear can cost between $10-15, while a plastic pinion gear costs between $1-10. It is considered a relatively simple skill and can be done very quickly. 
2. Change the Spur Gear
If you decrease the size of your electric car's spur gear, its top speed will increase. However, its acceleration speed will decrease.
If you're looking to increase your car's speed over a long distance, you should reduce the spur gear size. However, if you want it to have a burst of speed over a short distance, you may want a larger spur gear.
TIP: Try to experiment with different spur gears to understand which size works best for your electric car model and the distance you are trying to travel. 
3. Change Bushings To Ball Bearings
According to Driftomaniacs, swapping out your RC electric car's brass bushings to ball bearings will improve the run time of the car and help it go faster. Ball bearings will reduce drag and have less friction, allowing the car to glide forward more quickly.
Changing the bushings to ball bearings is a reasonably easy task and won't take too much time. A set of ball bearings is not very expensive – they cost between $9-25.
4. Replace Your Brushed Motor With a Brushless Motor
Brushed motors power many RC electric cars. If you swap out the brushed motor with a brushless motor, your electric car will go faster.
Unlike brushed motors, brushless motors do not have in-built brushes that cause friction and reduce speed. A brushless motor also has an efficient torque.
NOTE: As well as increasing speed, brushless motors can last longer and emit less heat. However, they are more expensive as compared to brushed motors and maybe more complex to install. 
5. Clean Your Motor Regularly
If you already have a brushless motor but still find that your electric car is too slow, your motor may need cleaning. Clean and oil your motor or take it to an expert for servicing.
NOTE: Regularly cleaning your motor will also help you identify any damage to the motor and replace it, if necessary. 
6. Replace the Battery
Check that your electric car has a Li-Po battery and not a Ni-Mh battery. Electric cars powered by Li-Po batteries run faster as Li-Po batteries have more power.
However, before swapping out your batteries, it's essential to consider what type of battery your electric car can handle. Some electric cars that have been using Ni-Mh batteries will only handle a specific size or power of a Li-Po battery. Check the user manual to ensure your car can handle the battery you are installing.
TIP: If your electric car already has a Li-Po battery, you can upgrade the battery to a bigger cell. While this may add weight to your electric car, it will also increase its power, allowing it to go faster.
7. Reduce the Overall Weight of Your Electric Car
Consider the materials your electric car is made with and whether you can replace any of them to make your electric car lighter. The lighter your electric car, the less drag it will have and the faster it will go.
RC car enthusiasts argue that one of the heaviest parts of the electric car is the chassis, the car's skeleton on which all other accessories and parts are mounted. Aluminum, titanium, and carbon fiber chassis are relatively light. If you are swapping out other parts, look for parts made with these materials.
However, you want to ensure that you don't make your electric car too light, as this may impact your car's ability to round corners without flipping over.
You should also note that reducing the weight of your car may be more expensive than changing the gears, the ball bearings, and even the motors.
8. Change Your Electric Car's Tires
To make your electric car go faster, make sure the tires you are using are suitable for the surface you are operating your electric car on. If you are running your electric car on wet mud or grass, select medium to full spikes.
If you are driving your electric car on tarmac or other smooth surfaces, use slick tires.
If you drive your electric car off-road on uneven, unpredictable surfaces, try using hardy pin tires.
In addition to selecting the right kind of tires, you should always make sure your RC car tires are well maintained and not worn out, as this could affect the speed at which it travels.
9. Check the Electronic Speed Control
Some electric car models have built-in electronic speed control (ESC), reducing the model's power and speed. If the ESC is set in training mode, the overall speed capacity of the vehicle will automatically decrease.
Ensure the car is out of training mode to reach its maximum speed.
What Are the Fastest Electric RC Car Models on the Market?
If you want to make sure you have the fastest electric car in town, why not consider buying a new model?
The fastest electric car models on the market include:
Traxxas XO-1 1/7 Scale AWD Supercar.
ARRMA RC Speed Monster Truck.
DEERC Brushless High-Speed Remote Control Cars.
However, keep in mind that these cars are extremely popular right now and they come in and out of stock very quickly. At the time of writing, each of these models is in stock, but that can change fast.
Keep checking back if you find a model you like as it will likely be back in stock pretty soon.
Pros
The benefits of the Traxxas Supercar include:
The ability to reach over 100 miles per hour (160.93 kilometers per hour).
The ability to go from 1 to 60 miles per hour (1.61 to 96.56 kilometers per hour) in 2.3 seconds.
One of the largest brushless motors on the market, which increases the car's speed.
A built-in stability management system (Traxxas Stability Management) allows the car to remain in control over a range of different surfaces.
The Traxxas Supercar is the fastest electric car currently on the market. It is built with high-quality materials such as hardened plastic and aluminum. These materials have been selected to reduce drag and withstand high-impact crashes.
Cons
Some of the drawbacks of the Traxxas Supercar are that:
This car is an expensive model.
You will require a relatively high skill level to operate this car.
To reach the 100 mph speed, you will need to purchase two 3-cell 5000mAh Power Cell LiPo battery packs, which are an added cost.
Buy this model if you are willing to invest a fair amount for a powerful, fast car from a reputed brand.
Pros
Some of the benefits of the ARRMA RC Speed Monster Truck are that it:
Can reach a speed of over 55 miles per hour (88.51 kilometers per hour).
The multi split-spoke wheels allow the truck to move over several different types of surfaces.
Made with high-quality materials that make this model suitable for both racing and bashing.
Cons
While the ARRMA RC Truck is a powerful car, it does have some cons:
It is one of the most expensive RC vehicle models on the market.
The core pack does not come with batteries and a charger, adding to the cost.
To allow the electric car to reach maximum speeds, you will need to upgrade to 8S LiPo batteries and another pinion gear sold separately to the core pack, adding to the cost of the car.
Another point worth noting is that some users find that the red version of the vehicle runs faster than the green version. This is potential because the green paint is heavier than the red.
Pros
The benefits of this model include:
The ability to reach a speed of 35 miles per hour (60 kilometers per hour).
Equipped with a brushless motor that allows for eight different acceleration timings and allows the car to move faster.
It comes with a battery and charger.
Cons
Some of the cons of this model include:
This model is not as sturdy as the other models explored in this article and may be vulnerable to damage.
Some users note that the car is extremely light and may flip while trying to carry out turns.
Read Next