This page contains affiliate links, As an Amazon Associate, I earn from qualifying purchases (with no extra cost to you).
Learn more
Many RC boat enthusiasts will argue that one of the best parts of RC boating is running your RC boat at high speed, racing it with others, or watching it quickly cut through the water. To enjoy operating an RC boat, you should know the speed at which it can run. How fast are RC boats?
Most RC boats can average between 15-25 mi/hour (24.1-40.2 km). But the best RC boats can reach 50 mi/hour (80.4 km). Factors that affect their speed include the design of the RC boat and the type of power it uses. In addition, the type of water body you use your RC boat on will also impact speed.
In this article, I will explore the speed of RC boats and the factors which impact boat speed. I will also explain how you can test the speed of your RC boat so that you can make the most of it!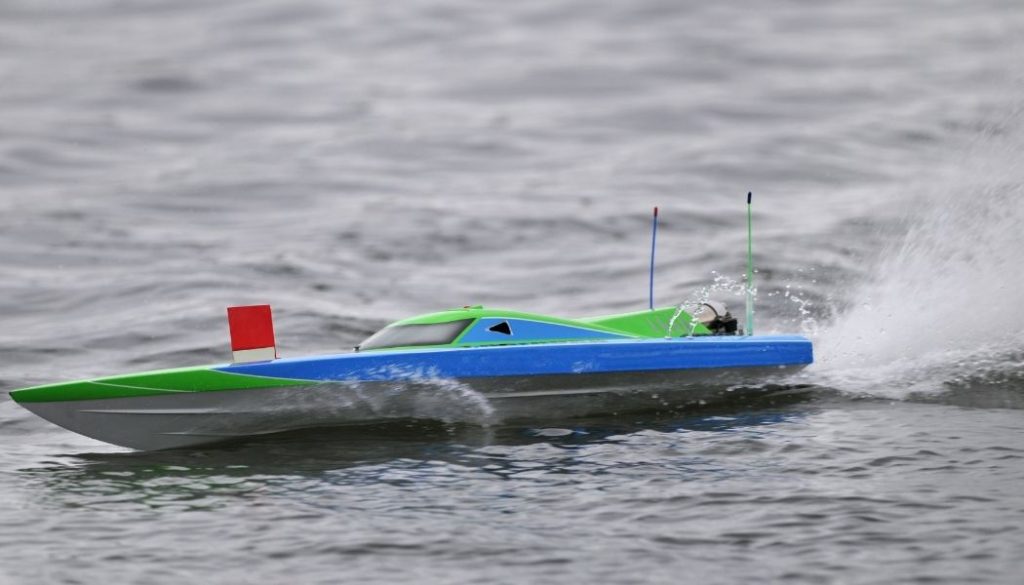 How Fast Can RC Boat Go?
Most RC boats can reach 15 miles (24.1 km)per hour, while some can go faster and average 25 miles (40.2 km) per hour. Some models which have primarily been designed to reach high speeds can reach 50 miles (80.4 km) per hour. These models have several features which help them move faster.
To learn more about how fast RC boats go, it is helpful to understand what impacts a boat's speed.
What Impacts RC Boats' Speed?
Some of the factors that impact an RC boat's speed include:
The type of RC boat.
The RC boat's power source.
The boat's propellor
The water body you are operating the boat on.
I will explore these factors in greater detail below.
The Type of RC Boat
There are two general types of RC boats; powerboats and sailboats. Powerboats are powered by fuel or battery, while the wind powers sailboats.
While RC sailboats may travel at high speeds when there's a lot of wind, most boating enthusiasts prefer powerboats. This is because they are more stable, easier to control, and have a more predictable speed.
Powerboats can travel up to a speed of 50 miles (80.4 km) per hour.
The Power Source
Powerboats can further be divided into two categories; battery-powered and gas or nitro-powered.
As a general rule, gas or nitro-powered boats are faster than battery-powered boats, especially if their engine is well-tuned. Gas or Nitro powered boats are more likely to reach the maximum speed of 50 miles (80.4 km) per hour.
However, battery-powered boats are more convenient as when the fuel runs low, you can swap out the battery. Beginners also prefer Battery-powered boats as they are easier to refuel. If you prefer to use a battery-powered boat, look for one with a brushless motor as they can travel at a similar speed to nitro or gas-powered boats.
Another tip is to select one powered by Lithium-Ion (LiPO) batteries if you prefer a battery-powered boat. These tend to have more power than the Ni-Mh batteries and allow the boat to move faster. If you already have an RC boat with Ni-Mh batteries, you can consider swapping them out to LiPo batteries so your boat can go faster.
The Boat's Propellor
Your RC boat's propeller size also has a significant impact on its speed. There are two types of propeller that your RC boat can have – a two-blade one or a three-blade one.
A propellor with three blades will have a faster acceleration speed than a propellor with two blades. Meanwhile, a propeller with two blades will turn at more revolutions each minute, enabling the boat to move consistently faster. So, if you are looking for a boat with a constant high speed, select a two-blade propellor.
The size of the propeller will also make an RC boat faster. If a propellor has a large diameter and a large pitch (the estimated distance your boat will travel with each turn of the propellor), it will likely go faster.
The fastest RC boats, therefore, will have a two-blade propeller with a large pitch and diameter.
The Water Body
The type of water body you are running your RC boat on also impacts its speed. RC boats work best on water bodies with gentle waves.
If you are operating your RC boat on a water body with large waves and strong currents such as the sea or on a river, the boat will have to work harder to cut through the water, slowing it down.
On the other hand, if you run your RC boat on a smooth water body at high speed, it may lift into the air and then crash back down into the waves, which slows the boat down.
If you want your RC boat to run at its fastest, try to operate it on bodies of water with gentle waves like lakes or ponds.
What Are Some Fast RC Boat Models?
If you are looking for a fast RC boat, some of the best models to consider are the Traxxas Spartan Brushless Race Boat and Pro Boat Miss Geico (both available on Amazon.com).
In this section, I will explore the benefits, drawbacks, and main features of these models.
Benefits
As its name suggests, this race boat has been built for speed. Here are some of the benefits of this model:
The model is capable of a top speed of 50 miles (80.4 km) per hour
It's powered by LiPo batteries and a brushless motor which allows it to move faster.
An optional feature is the Traxxas Link Wireless module which can be linked to an android, iPhone, or tablet, allowing you to tune your boat with your device.
It is completely waterproof, allowing the model to function for longer without getting damaged.
Drawbacks
There are a few drawbacks you should know about if you are considering getting this model:
This model can only reach the top speed of 50 miles (80.4 km) per hour if you upgrade to 6s LiPo batteries. These don't come with the original model and have to be bought separately, which is an added cost.
The model is relatively expensive and can set you back over $400.
Specs
Here are some of the main features of this model:
It is 40.80 inches (103.6 cm) long, 5.8 inches (14.7 cm) wide, and has a height of 9.50 inches (24.1 cm).
It has a two-channel 2.4GHz radio system with a long-range and high output.
You can upgrade this model with various accessories, including batteries, hull attachments, and different motors.
Benefits
The Pro Boat Miss Geico is a swift boat with several benefits. The benefits include:
The ability to reach a speed of over 30 miles (48.3 kilometers) per hour.
The boat comes equipped with a brushless motor which enhances its speed.
It has a built-in auto flip function that allows the boat to turn itself if it gets flipped over, which may happen if you're running it at high speed.
The boat is powered by LiPo batteries which allow it to move faster.
Drawbacks
This model has very few drawbacks. Some users have noted that their versions of the model are vulnerable to damage. However, this may be due to a few defective versions; you can contact the manufacturer if you find that your boat is damaged after its first few runs.
Specs
The main features of the Pro Boat Miss Geico are:
It is 26 inches (66.04 cm) long, 7.4 inches (18.7 cm) wide, and 6 inches (15.24 cm) high
It comes with a 2.4GHz transmitter
It is recommended for users who are 14+ years old.
Read Next