This page contains affiliate links, As an Amazon Associate, I earn from qualifying purchases (with no extra cost to you).
Learn more
RC boating, or remote control boating, is a fun hobby for children and adults alike. One of the biggest thrills of RC boating is revving up the speed of your boat and watching it cut quickly through the water. If you're an RC boating enthusiast, you've probably wondered how you can make your RC boat faster.
You can improve your RC boat's speed by upgrading its batteries, propellers, and motor. You can also improve your RC boat's speed by removing the gloss coating at the boat's bottom. As you're upgrading your boat, remember to ensure that the systems stay cool, so the boat runs smoothly and quickly.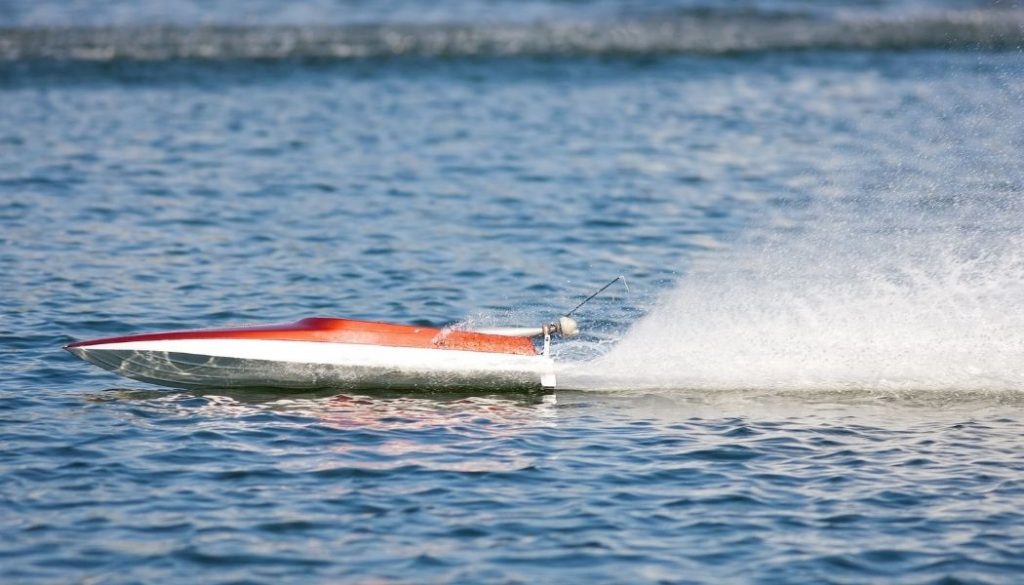 How To Increase Your RC Boat's Speed?
We will explore ways that you can improve your RC boat's speed. In the end, we will mention also some of the fastest RC boats on the market, so you can make an informed decision about getting one yourself.
1. Remove the Gloss on the Bottom of Your Boat
Experienced RC boat users recommend scuffing the bottom with sandpaper or a Scotch-Brite pad. Removing the layer of gloss at the bottom of your boat will allow the water to move more smoothly with the boat, causing less friction. This, in turn, makes your boat go faster.
To scuff the bottom of your boat, follow these steps:
Get 400 or 600 grit sandpaper or a Scotch-Brite general purpose scouring pad from Amazon.com.
Gently rub the bottom of the boat with the sandpaper or the pad – try to scrub at any part of the boat that makes contact with the water.
Continue to rub until the gloss wears off.
2. Don't Wax Your Boat Before Using It
Some RC boaters like to wax their boat to give it some extra shine. However, waxing your RC boat, especially the bottom of the boat, can cause it to slow down. This is because waxing increases the friction between the boat and the water, which increases drag on the boat.
3. Swap Out to LiPo Batteries
To make your RC boat faster, you can upgrade the battery it uses. LiPo batteries are lighter and more powerful than the standard NiMH batteries typically found in RC boats. Swapping out to LiPo batteries will reduce the drag on the RC boat and increase the power it runs at.
Have a look at your RC boat user's manual to check what size of batteries is compatible with your RC boat. Typically, RC boats use between 2-10 cell LiPo batteries.
4. Change the Propeller on Your Boat
RC boat propellers make direct contact with the water, pushing it back to allow the boat to move forward. As a result, propellers have a significant impact on the boat's speed. There are several factors to consider when deciding on the best propeller for your RC boat.
Propeller Size
Typically, the larger the propeller, the faster the boat will go. Propeller size is measured in two different ways; diameter and pitch. The diameter is the size of the propeller from blade to blade.
Look at your RC boat manual to find the largest diameter of propeller that your RC boat can handle without putting strain on the motor.
The diameter of the propeller the boat can handle is connected with the boat's battery. A boat that is powered by a two-cell LiPo battery can handle a 30-40 mm (1.18-1.60 inches) diameter. Meanwhile, a boat that runs on a ten-cell LiPo battery can power a 48mm (1.90 inches) diameter.
Upgrading your battery may allow your boat to be able to power a larger propeller.
Pitch
The pitch is the estimated distance the boat will travel after one spin of the propeller. When selecting a new propeller, look for one with a higher pitch, as this will ensure your boat travels faster.
Propeller Blades
RC boat propellers can have either two or three blades. The amount of blades on a propeller impacts the boat's speed in different ways.
A propeller with two blades has a higher top speed and will turn at more revolutions per minute. Therefore, it is ideal if you want your boat to run consistently fast for a significant amount of time.
Meanwhile, a propeller with three blades will have a faster acceleration speed and offer more stability. Therefore, a propeller with three blades is ideal if you want your boat to have a fast beginning and also if you want to run it in unstable water bodies.
It's essential to test different propellers on your boat to ensure your boat can handle it. Check your RC boat manual to see whether it has any guidance on propeller sizes or types.
Another way to test the propeller is to attach the propeller to your RC boat and run it for 20-30 seconds. Then, stop the boat and wait for a few seconds. If the boat is still hot, you touch it after 10 seconds; the propeller is probably too large for your boat.
5. Upgrade Your Boat's Motor
Upgrading the size of the motor will give your boat more power and help it to go faster. Most RC boats come equipped with a standard 0.28 cubic-inch (4.59 cubic centimeter) motor and can handle an upgrade to a 0.35-inch (0.89 centimeter) motor. However, you should check your RC model manual or check with the manufacturer to ensure that your boat can handle your motor upgrade.
6. Install a Cooling Water System
Upgrading your boat's features may put an added pressure on the boat and cause it to heat up. By adding a cooling water system to your RC boat, you will protect your boat from heating up, which will stop it from slowing down.
While these tips will increase the speed of your RC boat, it's essential to weigh the cost versus benefit. For example, if you have to upgrade several parts of your RC boat to make it go faster, it may be easier and cheaper to buy a faster RC boat.
What Are the Fastest RC Boats?
Some of the fastest RC boats currently on the market include the Altair Brushless RC Boat and the Force1 Velocity Boat.
Benefits
This RC boat is one of the fastest on the market. Some of the benefits include:
The ability to run at over 24 miles (40 kilometers) per hour
Built-in out of range and low battery warning
Three batteries increase the boat's speed
An anti-capsize hull that makes for easy recovery
Cons
The Altair Brushless boat from Amazon.com has an excellent reputation in the RC boating community. The only con that some users have noted is that this model may be more vulnerable to leaks.
Main Features
The main features of the Altair Brushless RC Boat are that:
It has dimensions of 18.07 x 11.46 x 5.98 inches.(45.9 x 29.11 x 15.19 centimeters)
One Lithium-ion battery powers it.
It comes with a pre-charged, easy to use remote
Benefits
The Force1 Velocity Boat has several benefits, including its high speed. Here are the benefits of this model:
The boat can run at over 20 miles (32 kilometers per hour)
It's powered by two LiPo batteries, which help the boat run faster
It has a capsize recovery mode that allows you to flip over the boat if it gets capsized quickly
It has a 2.4 GHZ remote control with options to adjust power, a low signal warning, and trim adjustment
It has a built-in water cooler
It runs for 15 minutes
Have a built-in emergency stop function
Cons
While this model has several benefits, it does have a few drawbacks.
While the boat comes with batteries, the remote control does not come with batteries. So you'll have to equip the remote control with batteries which is an additional step before taking it out onto the water.
In addition, some users have noted that it is difficult to open the boat to charge it.
Main Features
The main features of this RC boat are that:
It is 14.33 by 10.87 inches. (36.40 x 27.61 centimeters)
Has a charge time for 3-4 hours
7.4v 1100mAh Lithium-Ion powers it
Read Next