This page contains affiliate links, As an Amazon Associate, I earn from qualifying purchases (with no extra cost to you).
Learn more
Remote control (RC) boating is a fun hobby that people around the world have embraced. RC boats can be used on various water bodies, from lakes to streams to the ocean. However, it's essential to use specialized RC boats for each water body, including saltwater.
The best three RC boats for saltwater are Funtech Remote Control Boat, the Blomiky H102, and the Kuman Remote Control Boat. These boats are waterproof, which prevents them from saltwater corrosion. They also have powerful bodies and systems to tackle rough waves and potential flip-overs.
| | | |
| --- | --- | --- |
| Top | AlphaRev R308 | Check Price |
| | Blomiky H102 | Check Price |
| | Longruner | Check Price |
This article will explore everything you need to know about the best RC boats for saltwater.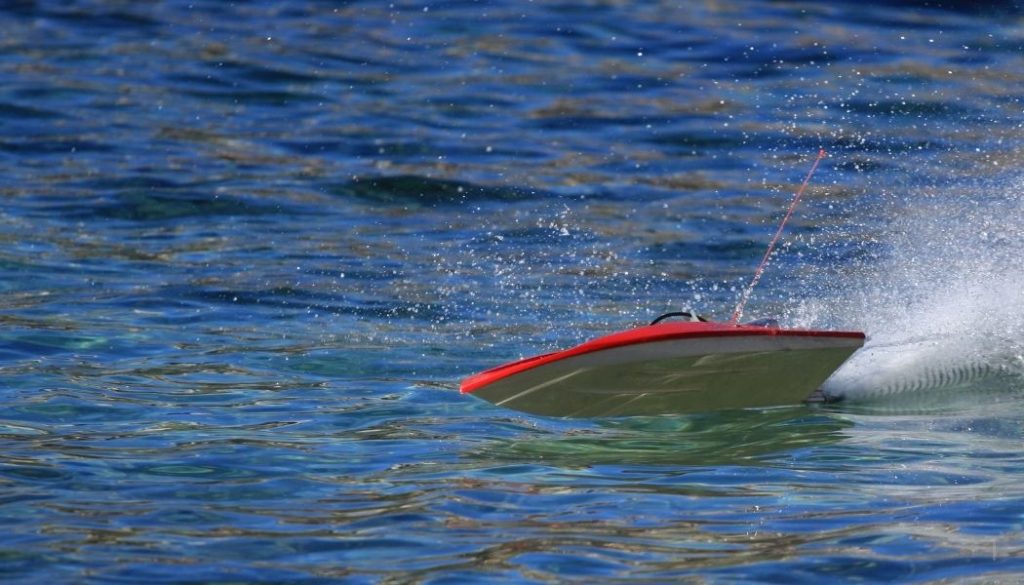 Best RC Boats for Saltwater
Let's name the best RC boats for saltwater and why are excellent choices for the ocean.
With ABS plastic, waterproof hull, Funtech Remote Control Boat doesn't get corroded in saltwater. Its water-cooled motor is another longevity factor that extends its service time.
It has a USB charger to charge the batteries with various devices, including power banks and car chargers. So, you can juice it up even if you're spending the whole day at the ocean.
A 2.4GHz remote control system allows for an extended range of controls, code pairing, and lower power consumption. A length of 13.78 inches (35 centimeters) means you can ride the boat through the narrowest canyons.
Also, it comes with a display stand, which protects the rudder and the propeller when not in use.
This RC boat has a one-year fix and replaces period, which you can avail of if your boat gets damaged. And most importantly, it's moderately priced.
Some users have noted a couple of issues with the Funtech Remote Control boat, including no reverse or capsize capacity, which makes it harder to recover if it turns over in rough waves. The batteries also have a short lifespan, and they need to be replaced relatively quickly.
Pros
ABS plastic, waterproof hull.
Fix and replace warranty.
All-compatible USB charger.
Energy-efficient.
Remote control system.
Cons
Lack of capsizing capacity.
Battery lifespan
The Blomiky H102 is a powerful boat. Its waterproof hull protects the boat from the corrosive salt in oceans.
Besides, it's made of ABS plastic, a high-quality, rigid material that makes the boat strike resistant. This is especially helpful if you're sailing the boat in the ocean as it can withstand rough water and big waves without breaking apart.
The Blomiky H102 comes with a rechargeable battery, a boat stand, and wipes for cleaning the boat, making it ready to use upon delivery.
The boat is relatively affordable and is great for beginners and experts alike. It's 14 inches (35.56 centimeters) long, has a 2.4 GHZ remote control. It shows users the signal strength, an emergency stop function, and boat power. It also ensures you'll receive a warning when your RC boat starts to go out of range. So, you won't lose your boat to the ocean.
It's powered by a power motor that improves performance and stability.
But before you rush to buy it, be aware of its little run time. This RC boat only sails for 8 minutes, after which it needs to be recharged. The charging time is approximately 45 minutes. So, if you plan to spend a day at the ocean, you may need to consider where you will re-charge your RC boat batteries.
Pros
Durable and waterproof hull.
Emergency features indicators such as signal strength, stop function, boat power, and out-of-range warning.
A range of accessories like remote control, cleaning wipes, etc.
Integrated battery and charger.
A built-in low signal warning.
Cons
Another excellent choice for saltwater, the Longruner RC Boat is covered with a double-layered seal that prevents water from entering any part of the boat's interiors.
Its streamlined hull and a v-shaped bow ensure the boat stays upright in rough ocean waves. And its built-in capsize recovery feature means you can turn it over even if it flips over.
Not only that, it has 180 flip site recovery making it easier to recover when turned upside down. This way, you'll know you can get your boat safely to shore, even in the roughest of waves.
This boat can hit a maximum speed of 15.6 miles (25 kilometers) per hour. This makes it a great boat to run on open waters like the sea.
It measures 14.2 inches (36.07 centimeters) long and comes with a 2.4 GHZ remote control that can control up to a range of 150 meters (492.13 feet) and enables the boat to move in all kinds of directions.
A two-way navigation rudder can also course-correct if the boat gets off track.
The device is reasonably priced, and as a bonus, the company offers full refund option if you're not happy with the boat.
Another worth-mention shortcoming is its minor run time. The boat can run for a maximum of 15 minutes, after which they have to be recharged. So, it's a good idea to carry along a spare pair of batteries just in case.
Pros
Fully waterproof body.
Excellent stability.
Capsize recovery capacity.
Backward cruise capacity.
High speed.
In-built navigation rudder.
What to Consider When Buying the RC Boats for Saltwater
Hundreds of RC boats are available out there, making your decision-making a little tricky.
So, here are a few factors to pick out the best match according to your needs.
Hull Type: It's the most determining factor that makes an RC boat suitable for saltwater. So, ensure you're getting a rigid hull with non-metal coatings that can withstand the saltwater corrosion.
Self-correction: Boats with no capsize recovery feature risk losing your toy in the middle of the sea. So, take this feature a priority.
Speed: While some pro RC racers go for excessive speeds up to 50 miles per hour, a noob hobbyist would better start by 15 to 20 miles per hour.
Battery Runtime: The time your battery will run has a direct relation with how much fun you can have. It also affects your boat speed. So, go for long battery life if you're buying the boat for a pro. But a short-time one would suffice for a child or beginner. You can also pick options that come with spare batteries.
How To Make Sure Your RC Boat Is Protected From Saltwater
You can use the following methods to further protect your RC boat from saltwater:
Clean it out. After you run your RC boat on saltwater, give it a thorough clean with fresh water to wash out any salt that may corrode the boat's inner systems. Before flushing out the boat, remove the radio system so that it doesn't get ruined.
Coat the boat in silicone lubricant. Before taking your boat out onto saltwater, spray it with a silicone lubricant and let it dry. This will give your boat an added layer of protection.
Reverse sparingly. Try not to use the reverse function on your boat too often, as this will force water into the boat's hull. Only reverse when you have no other option.
Oil your boat regularly to prevent salt from building up.
By taking all these steps to protect your boat and using the right boat model, you can safely run your boat on a saltwater body.
Read Next