This page contains affiliate links, As an Amazon Associate, I earn from qualifying purchases (with no extra cost to you).
Learn more
Whether you're looking to get your first RC basher or to upgrade what you've currently got, I'm going to make it easy for you. Below, I've compiled a list of the 5 best RC bashers representing my best bashing choices.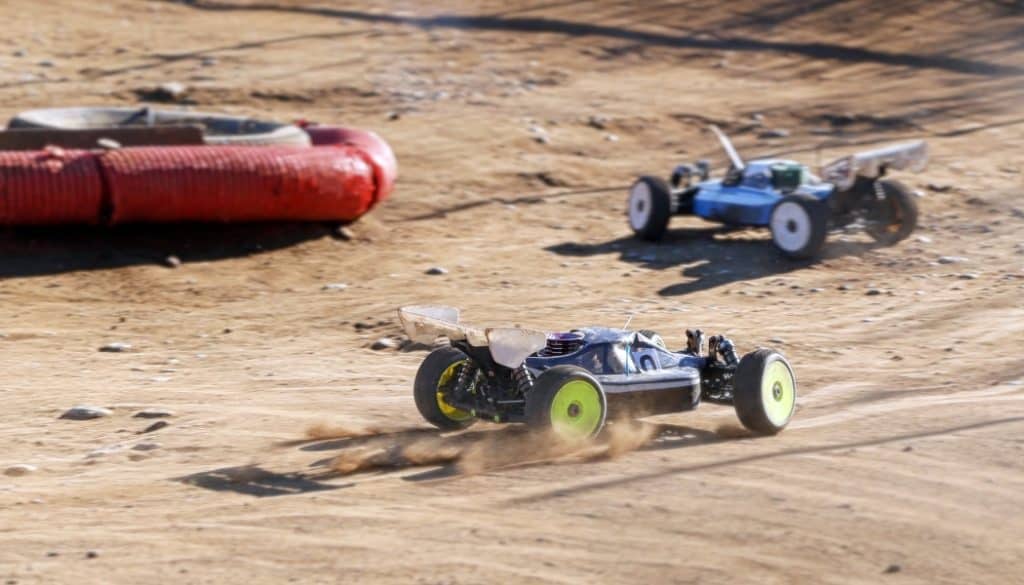 The best choice of RC basher is one that's durable and easy to maintain. It'll need to be able to withstand all types of terrain, from hard surfaces to dirt and sand. It must be sturdy enough to cope with crashes without falling apart. Also, replacement parts should be readily available.
I think that sums up the main things I look for in an RC basher. Now, I'll detail my 5 best RC basher choices, highlighting some of the main features that I like about each of them.
These are my top two choices if you are in a hurry.
Click to Edit
Image
Title
Buy

Top

BEST OVERALL
Traxxas 1/10 Scale E-Revo Brushless Racing Monster Truck, Green
Check Price
BEST ON BUDGET
ARRMA 1/10 Granite 4X4 V3 3S BLX Brushless Monster RC Truck RTR
Check Price
First on my 5 best RC bashers list is the Arrma Granite V3 3S BLX RC Monster Truck.
The Best Benefit
This truck is built well for high-speed bashing on all terrains with its super-strong chassis and double-wishbone suspension. It makes for a monster RC truck that's stable on even the bumpiest terrain. That means fewer spills, reducing the risk of damage that might otherwise cost you money on repairs or replacements.
Other Features
Naturally, a monster truck comes with monster-size tires. The vented Fortress tires on the 2.8" (7.11-cm) wheels look great. However, they also give excellent grip even on the most challenging of surfaces.
Not only do the tires look good, but because they're vented, they let the dirt and water drain out. That's an improvement on previous versions, which had vented wheels. The vented wheels ended up collecting dirt and water, which is never a good thing.
The tire grip is a big positive because though this truck is big, it's still fast, with speeds of 50+mph (80+kph). That's plenty of speed for a satisfying bash.
The speed is down to the Arrma Granite's efficient Spektrum Firma 3660 brushless motor. Brushless means the motor doesn't suffer so much from wear and tear. Even less so due to the cooling fan, which keeps the motor running well even on long bashes.
There's also easy access to the power module and electronics. I think that's a real advantage when it comes to maintenance.
The big plus is that despite the easy access, there's no reduction in the protection of those modules from dirt ingress. The high-sided chassis tub plays a major role in this.
The Arrma Granite V3 3S BLX also benefits from castellated slipper pads, which really help with slipper clutch performance, even under the most testing conditions.
I should also mention the steering design. It lets debris and stones that get kicked up on any serious bash just fall out. I like this because I don't have to waste valuable bashing time clearing all that stuff out from the underside to avoid jamming the steering.
What I also like about the Arrma Granite 3s BLX, the Spektrum SLT3 Radio System is a big plus. I find it's really responsive. This is another one that's also handy for beginners because it lets me reduce the throttle by 50% or 75%. Great for anyone starting out.
And because the Spektrum SLT3 is quite light, I have no issue using it for lengthy periods. The foam-covered steering wheel increases that feeling of control as it's easy and comfortable to grip.
I'd recommend anyone to watch the Arrma Granite 3S BLX in action in the following video, as it really whetted my appetite for this RC basher:
Pros
Well built for superb durability on all terrains
Easy access to the motor and power module for maintenance
Great suspension ensures stability even on the toughest surfaces
Cons
The battery and charger aren't included
My next choice again comes from Arrma, but this time, it's a buggy, the Typhon 6S V5.
The Best Benefit
The Arrma Typhon 6S V5 Buggy is an RC basher that's designed for speed. It's capable of up to 70+mph (113+mph) with the optional high-speed pinion gear and a 6s LiPo battery. I find I can really ramp up the excitement and test my driving skills at that sort of speed.
However, don't make the mistake of thinking the speed capability must mean it's only for smooth surface bashing. Because this buggy is just as at home off-road. It delivers lightning-fast speed capability on flat surfaces but grip and stability when I want to hit the dirt.
Other Features
As you'd expect of an RC vehicle that can run at such speed, the Arrma Typhon 6S V5 has a brushless motor. This one's the Spektrum Firma 4074 2050kv motor.
While overheating can be an issue at high speeds, that's not the case here. The Arrma Typhon 6S V5 has an integrated fan and an Arrma heat sink to dissipate the heat. But, there's also thermal overload protection which shuts things down if things do get too hot.
Just be sure not to run this thing at top speed off-road. That speed is for flat surfaces only. And make sure to take the high-speed pinion out for off-road use to avoid overheating issues.
With such speed capability, the Arrma Typhon 6S V5 is also built for durability. Its all-aluminum chassis and all metal-geared servo certainly help.
The Arrma Typhon 6S V5 is lower-slung than the other RC bashers I've got in my picks. The lower center of gravity gives it supreme stability. However, this means it doesn't have much clearance.
Still, it's billed as an all-terrain RC. While I probably wouldn't run this on really rocky terrain, it's fine for other rough surfaces.
I think that's because of the control I get from the steering and the buggy's weight. It comes in at over 7.5 lbs (3.4kg). So landing it on its wheels after flying through the air is a cinch. The wide frame and heavy-duty shocks also play a big role here.
The following clip of this buggy in action shows what I'm talking about:
Pros
Extremely durable
The speed capability and stability make it great fun to bash
High-speed pinion included
Cons
The battery and charger aren't included
The 70+mph (112+kph) speed advertised needs optimal conditions and a 6S LiPo
The lack of clearance might not suit everyone's bashing needs
The exposed wheel nuts may get damaged easily, making it hard to undo them when you need to
While I like the speed capability of the Arrma Typhon above, I'd probably prefer it in an RC basher with higher ground clearance. This is why the Traxxas E-Revo VXL is on my 5 best RC bashers list.
The Best Benefit
Apart from the speed capability with the higher clearance, this Traxxas can right itself. That's a big advantage, as I find it a pain to flip vehicles when they're far away from me. Having one that rights itself will save a lot of shoe leather.
It's especially handy for this E-Revo, given the speed capability. That may make it more prone to landing upside down after big jumps. However, I can get it back on its wheels at the press of a button with this self-righting system.
Other Features
The first thing I noticed about the Traxxas E-Revo VXL is the suspension is inboard, not exposed as on most RC bashers. While I like the look of exposed suspension bars, not seeing them gives the E-Revo a pretty neat look.
The inboard mounting also puts the shocks in a horizontal orientation. That gives the E-Revo VXL a lower center of gravity than many monster RC trucks, which helps with stability.
Another feature I like is the dual steering servos, which give tight control, even at speed. The rear wing also helps with stability, providing downforce but without increasing drag.
There's a handy quick-release system on the body to give you fast access to the electronics inside. That's useful for quick battery changes when you're out bashing and when you need to get access for general maintenance.
The speed capability of 70+mph (113+kph) on the E-Revo VXL comes from the Velineon® VXL-6s power system. With that kind of speed and blistering acceleration, durability in the drive system is crucial. That's why the E-Revo's drivetrain is pretty much all metal.
Just note, however, batteries aren't part of the package. So don't forget to budget for batteries and a charger. To hit the 70+mph (113+kph), that means two 3s LiPos.
Overall, the E-Revo's build gives it a solid beefy look. Features like the steel suspension linking rods, sturdy arms on the wishbone suspension, and a 5mm motor plate ooze durability. It feels like the E-Revo is built to take as much punishment as I can throw at it.
Pros
Very durable
Spares widely available and reasonably priced
Capable of 70+mph (113+kph)
The wide frame makes it extremely stable
Its self-righting system means less time retrieving it when you flip it
Cons
The inboard suspension may not be so easy for some people to access
Batteries and charger are extra
When it comes to RC vehicles, Traxxas is probably the biggest name out there. And the Traxxas Slash 4×4 XL-5 doesn't disappoint.
The Best Benefit
The Traxxas Slash 4×4 XL-5 has a powerful Titan 12T 550 modified power motor. Although it's a brushed motor, it delivers great performance for long bashing sessions without overheating.
That's because the integrated fan keeps the motor cool. Also, the motor mounting plate is aluminum, which helps dissipate heat. That means this Traxxas can run faster for longer without reducing motor life.
If you're anything like me, once you start bashing, you can lose track of time. So being able to just keep bashing without worrying about overheating the motor is a big advantage.
Other Features
This Traxxas features a waterproof XL-5 electronic speed control. In fact, all the vehicle's electronics benefit from waterproofing.
So I can take the Traxxas Slash XL-5 out for a bash even when it's wet, muddy, or snowing. And I know that putting it through puddles won't cause any problems.
What I also like about the speed control is the training mode. In training mode, you get 50% of the full power output. It's a fantastic tool if you're new to RC vehicles and want to get to grips with controlling them before letting rip with full power. It saves the cost and hassle of getting a less powerful RC to learn with and then upgrading later.
The modular build is another big plus. It makes it easy to take it apart for maintenance. So if I do need to replace anything, it's a piece of cake.
This Traxxas comes with a 7-Cell NiMH battery, plus a fast 4-Amp charger. The charger is better than I've seen with other RC bashers, and I can recharge the battery more quickly. I also like that it plugs into a 12V vehicle outlet. So I can charge even if I run out of juice when I'm out bashing.
TIP: Although the battery supplied is a NiMH battery, it's also possible to use lighter, more efficient LiPo batteries. Just make some adjustments to the settings of the XL-5 speed control. Thankfully, instructions for doing this come with the vehicle. 
As I mentioned above, the Titan motor on the Traxxas Slash XL-5 is brushed. Eventually, brushes will wear. However, on the plus side, a replacement battery is pretty cheap.
And another big selling point is that replacement parts generally are easy to come by for Traxxas because it's such a popular RC brand.
Finally, when talking about a Traxxas RC basher, I can't fail to mention durability. It's something that Traxxas does well.
In the following video review of this model, at about 16:52, the reviewer talks about hitting a concrete pole at full throttle:
However, the Traxxas came out unscathed. I can't really say any more than that.
Pros
Extremely durable
Waterproof speed control and electronics – great for all weather conditions
Training mode on speed control, so even learners can bash with this vehicle
Modular design so easy to take apart and reassemble
Spare parts readily available
Cons
Titan 12T 550 motor is brushed, so eventually needs replacing
If it's the speed you're after, the brushed motor may not deliver
Next on my list of the 5 best RC bashers is the Traxxas Slash 4×4 VXL. It's a step up from the Traxxas Slash 4×4 above.
Next on my list of the 5 best RC bashers is the Traxxas Slash 4×4 VXL. It's a step up from the Traxxas Slash 4×4 above.
The Best Benefit
The Traxxas Slash VXL has the benefit of a brushless motor, the Velineon® VXL-3s. The brushless motor gives the Traxxas VXL a lot more power, with lightning-fast acceleration and speeds of 60+mph (97+kph). So I can really push it and my RC skills to the limits.
However, this Traxxas doesn't cost that much more than the Traxxas Slash XL-5 above. So there's more power and speed but without a significantly greater outlay.
Other Features
This model's brushless motor isn't going to wear out as fast as the brushed motor on the Traxxas Slash 4×4 XL-5 above. That means I don't need to worry about having to replace it due to wearing it down, and it'll last a lot longer.
Even better, I can buddy up my phone to the radio system with the Traxxas Link App. The app lets me fine-tune settings from my phone to get the Traxxas Slash VXL running exactly how I want it.
I can also get various telemetric readings in the app that I can view in real-time. Or, if I'm bashing on my own, I can playback the information later.
It's a really handy feature that's easy to use with a user-friendly graphic interface.
And, if I want to run a stable of Traxxas RC vehicles, I can set custom settings for each through the app and save them.
The Traxxas Slash VXL also has Traxxas Stability Management. So I can stay in control at speed, even in wet or slippery conditions, and when cornering. That greater control means I spend less time recovering my RC vehicle from spills and flips. That translates into more driving time.
There's also a training mode setting on the electronic speed control. It will cut the power by 50%. Given the Slash VXL's powerful motor, this is a particularly useful feature for RC novices and kids. It can save a lot of money by avoiding high-speed collisions, which can damage parts.
Again, the Traxxas Slash VXL benefits from Traxxas's excellent build quality. But, there is one downside I'll mention, namely the plastic shocks and shock caps. These can get easily damaged if bashing on rough terrain and putting the Traxxas Slash VXL over lots of jumps. So I'd probably replace the plastic shocks with aluminum parts.
Another potential issue is the battery. First, there's no battery included. You have to buy the battery and charger separately. Second, the Traxxas Slash VXL can only run on a 3s LiPo. It can't cope with a 4s without upgrading everything else. Some might find a 3s limiting in the long run.
Pros
Super powerful brushless motor
Stability Management helps keep you in control in all conditions
Ability to adjust radio system settings and fine-tune them through a phone app
Cons
Plastic shocks and caps may be more prone to damage
Battery and charger not included, and the battery is limited to 3s LiPo
Read next