This page contains affiliate links, As an Amazon Associate, I earn from qualifying purchases (with no extra cost to you).
Learn more
RC car tires are as diverse as standard car tires in terms of sizes, shapes, and costs. Each brand and model tire will perform differently based on the type of RC car you have and the terrain you typically drive. But with so many options available, how do you know which RC car tires are best for you?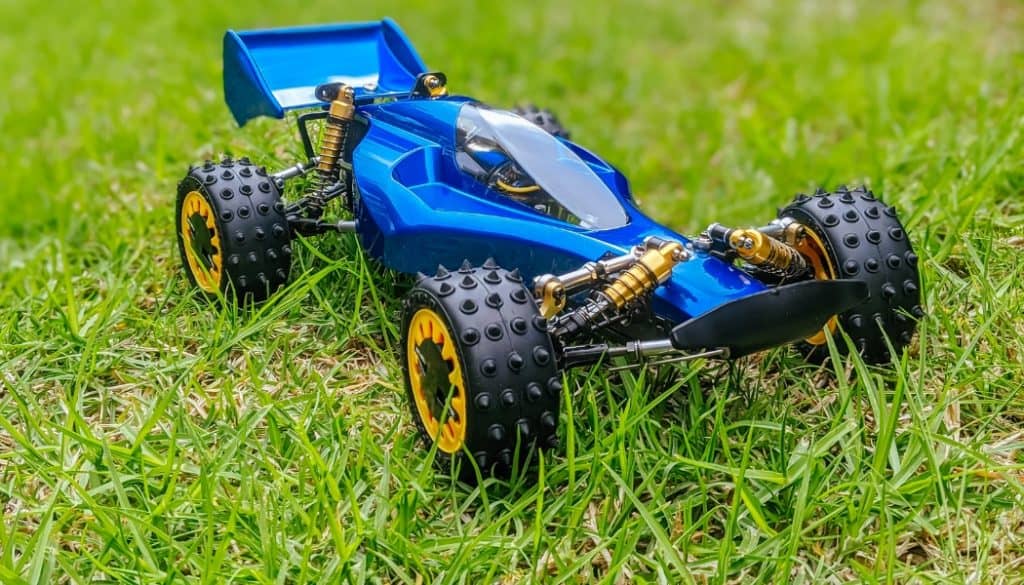 To choose the right RC car tire, pay attention to factors like car style, usage, and other special considerations. Choosing the wrong model tire can negatively affect the overall performance of the car. In some cases, it could cause damage to internal mechanisms due to excessive exertion.
In this article, I'll cover everything you need to keep in mind when buying RC car tires and how to ensure you choose the perfect options every time. I'll also explain how to properly replace the tires on your RC vehicle and discuss ways to make your RC car tires last longer.
RC Car Tires Models
RC car tires are specially formulated to fit the models they are designed for. The models typically belong to different groups, including Crawl, Race, and Bash. However, most of them can fit into any of those categories. This is especially true with models like Monster Trucks, Short Crawlers, and Stadium Trucks.
Furthermore, options like Civilian and Drift Cars are not designed for racing on unpaved surfaces.
Popular RC Tire Brands
There are dozens of RC tire brands you can choose from, but you don't have to know all of them. I suggest you focus on the popular models and stick to those with favorable reviews from other users—especially users who own the same RC car models as you.
Some of the most popular RC tire brands include (in no particular order):
Losi
ST Racing
Kraken
Traxxas
Redcat Racing
Maximizer
HB Racing
DuraTrax
Cross RC
Pit Bull Tires
Tekno RC
Trinity
Gmade
ECX
When looking at RC car tire brands, it's best to avoid those with price points that are way below the industry average. I've yet to see or hear about anyone having a good experience with these dirt-cheap brands. The tires generally wear out far too quickly (ultimately costing you more due to frequent replacement), or they cause serious damage to the car.
Choosing the Right RC Tire Size
Generally, the scale of the vehicle is what determines the size of the tires. If you don't know your vehicle's scale, the model specs are printed in the manual that came with your RC car. (If you've since tossed that paperwork, simply contact the manufacturers for this information.)
Here are some examples using 1:10 and 1:8 scales.
1:8 RC Truggy: Truggies with a 1:8 scale typically share the same tire sizes and wheels all round. The outer diameter of the Truggy wheels and the rims may be slightly different. Look through your stock tire specs before you get new ones.
1/8 RC Buggy: The wheels here are generally uniform. Therefore, it's easier to choose tires for them. You can mix and match as you deem fit, using different tires from different brands. 1:8 scale buggies generally share the same wheels on the rear and front.
1/10 RC Short Course: Unlike the buggy variant above, these cars often have unique wheels. Short course tires will only fit on short course rims, and these all have different diameters.
1/10 RC Buggy: Buggies generally have rear wheels of different widths compared to those in front of the buggy. Most of these often follow a uniform size of 2.2 inches (5.588 cm), so they'll also need 2.2-inch rims. You should also note that buggy tires are narrower compared to truck tires.
1/10 RC Truck: RC trucks have uniformed sizes for both the front and rear tires. They also typically require a 2.2" (5.588 cm) rim, but there could be some variations. Check the specifications for your truck model before you buy new tires.
How to Choose Appropriate RC Tires for Different Surfaces?
While the pre-installed tires on most RC models do a decent job, I recommend exploring the aftermarket industry for an upgrade. The tires on an RC vehicle determine the grip you'll get, and these post-manufacturer options typically provide better performance, especially on more challenging surfaces. Tires also have an impact on speed.
Most tires in the market today are knobby, smooth, or in between. Before settling for a tire, think about the surfaces you intend to use the car on. Knobby tires are best for off-road surfaces, while smooth tires will deliver better performance on smooth roads and surfaces.
The "in between" tire features also have preferred applications, such as:
Mini spikes are good for a decent overall grip
Mini pins are best for carpet surfaces
Full spikes perform great on muddy surfaces or wet grass
Slicks work best for pavements and tarmacs
How to Choose Right RC Tire Compound?
A tire compound refers to the materials used in creating it. It could be rubber, carbon, or other such materials. The compound can be extremely soft or hard, but some tires are made with compounds somewhere in the middle. RC cars tire manufacturers denote the strength of the compound using colors.
Softer compounds provide better grip and ensure faster speeds, while harder compounds don't deliver the same level of grip but are less likely to get damaged. To choose a tire with the right compound, you have to look at your usage again. Do you want more durability or better grip and speed?
How to Choose Right RC Car Rims?
Many are surprised to find that the selection of rims is just as wide and varied as wheels. This is because rims tend to be specific to the wheel size and vehicle type. Therefore, the first step to choosing the right rims is to check your owner's manual to see what it recommends.
For instance, 1:8 buggy wheels are of a standard size, so it's possible to mix-and-match the rims and tires of various manufacturers. Whereas 1:8 truggy wheels are unique from the wheels of other vehicles. Notably, the rim sizes and wheel's outer diameter are varied.
Additionally, there are various ways to mount wheels on an RC car, which will differ from vehicle to vehicle and will limit what kind of options you have. This is also something to consult your owner's manual about before selecting new rims.
A hex mount is typically the most common approach, but some models may require other methods, such as bearing or pin mounting.
How to Choose RC Tire Inserts?
While standard car tires have air inside them, RC tires come with foam inserts. When choosing tires, pay attention to these inserts as they're important determinants of how your tires will perform.
Inserts are available in dual staged, molded, or regular. Each has unique properties, with molded inserts typically being most expensive (but you get quality in return).
The stiffness of the inserts influence the flexibility of the ride. Softer inserts typically offer a more flexible ride, while stiffer ones ensure a firm ride. If you're new to RC cars, you might be better off sticking with your car's pre-installed inserts for now. With more experience, it's easier to learn how to adjust the inserts on your own.
The RC Community Can Offer Support
Experienced RC car owners have seen and done it all, so they know what type of tires work best for specific models. They also know which tires or brands to avoid.
You can save yourself a lot of time and potential disappointment by seeking out these opinions first and basing your search for tires around what they suggest.
If you're using the RC car competitively, you'll want to look beyond brand names and generic advice and go deep into the trial and error world of modifications.
If you can't find the information you need, don't hesitate to ask questions. Most members of online RC communities are always willing to help newbies solve problems.
Top RC Car Tire Models on the Market
Below are some of the best RC car tires available today (and what I think about them):
These tires are compatible with most 1/10 short course racing trucks. Installing them on your car in place of the pre-installed options can help the truck go faster. The set is really attractive, thanks to the high-quality rubber used in the production.
The design ensures excellent forward and side bite on a wide range of surfaces. Like other models, you have to glue the tires.
This is one of the best budget RC car tires you can find today. These come with smart plastic rims and foam inserts. They are durable, affordable, and guarantee you excellent grip.
This is a 4-piece tire and rim set that also includes locknuts. They are compatible with most 1/10th scale touring rally racing cars. However, they won't work with Traxxas models.
The tires also have to be glued onto the rims. Be sure to use high-quality glue for this task.
I love this 4-piece set of drift tires. They work just as well as you'd expect, and they're compatible with most 1/10 scale 12mm Hex on-road RC car models, including those from brands like Himoto, Redcat, HSP, HPI, Exceed, etc.
Do you drift on carpets? These tires are excellent for such a job, with hours of strong drifting ability. Plus, the neon green color makes for a cool boost to your car's appearance.
If you have a monster truck like the Traxxas MAXX , these are the perfect tires to choose. They have outstanding traction on all surfaces. Plus, they're made from a very durable material that features an anti-ballooning compound. If that wasn't enough, the manufacturers have reinforced the tire's beads to ensure added strength.
These thick and durable tires work perfectly, even in the most extreme conditions. The wheel and tire combo are some of the priciest in the market, but that's no surprise considering the type of RC cars likely to use them. Though you can change the inserts or tires and reuse the wheels—a little extra value for your money.
Don't be deceived by the heavy appearance of these tires, though. The weight has little to no impact on the top speeds your RC truck can reach.
These are high-quality rock crawler tires compatible with a range of RC trucks, including Axial SCX10 90047, Tamiya CC01, Traxxas TRX-4, and more.
You can count on these tires to perform excellently on most off-road terrains, from dirt and mud to rocks and slate. The tires are also highly water-resistant. On the flip side, you'll need to order better foam since what's fitted isn't the best (which is reflected in the price).
These tires come with pentagram plastic rims and high rubber tires. They are mostly compatible with 1/10 scale RC buggies and come at an attractive price. The soft foam inserts and soft compound ensures impressive traction for your car.
With these, your buggies can navigate multiple terrains better than with the stock tires. However, the rubbery smell of the tires will linger for a while!
How Often Should RC Car Tires Be Changed?
How often an RC car's tires should be changed is fairly subjective. The tires on a car driven for a few hours each weekend will last longer than those out on the tracks for multiple hours per day. If you only use the tires occasionally, consider changing the tires every three months.
It's also a good rule of thumb to change tires constantly used on off-road terrains. Depending on how frequent this is for you, you may need to change the tires every six weeks. In general, just keep an eye on your tires for serious signs of wear and tear. Change them regularly based on your specific usage approach.
Can You Continue Using Old RC Car Tires?
You can continue using old RC car tires them long after they're due for replacement, though this will come with some consequences. For me, the first thing I noticed about trying to control an RC car with old tires is the poor response. Then, once the car got to a medium speed, steering to the right became more difficult.
You don't stand any chance of winning any races with such tires. Besides, worn-out tires can expose your RC car to more serious damage overall.
Factors That Cause Tire Damage
Several factors can damage your RC car or truck's tires. They include the following:
1. Choosing the Wrong Tires
One of the reasons you need to ensure you've chosen the right tires for your use case is that the wrong ones will get damaged quickly.
If you use tires meant for smooth pavements for off-road racing, they will wear out quickly. This also applies when you try to reach maximum speeds on pavements with tires meant for rough terrains. The tires will have a hard time reaching and staying at the speed level, causing faster wear.
2. Putting Too Much Strain on Tires With Stunts and Tricks
Are you regularly pulling drifts and stunts with normal RC tires? They'll wear out pretty quickly. When I want to do some competitive stunts with the RC car, I swap out the standard tires for those meant for stunts. These tires are slippery, and they don't wear out as fast as normal tires after a few stunts.
3. Using the Car for Too Long
If your RC car sees an hour of action every day, the tires will wear down within a few weeks. This is especially true on indoor tracks. Unfortunately, this fact means that operating RC cars has the potential to be an expensive hobby. I recommend setting aside money for tires if the RC car is a huge part of your daily activity.
How To Make RC Car Tires Last Longer
It's possible to make your RC car tires last a bit longer. There are two main approaches to achieve this:
Rotate the tires before taking the car out for a spin
Apply WD-40 on the tires before every run
Rotating the tires simply involves flipping them and ensuring there's as much spread as possible. This approach is best when you notice the inside tires are more worn out than the outside ones or the other way round.
Using WD-40 helps soften tires and strengthen grip. The compound also doubles as a water-repellent. Just be sure to coat the tires properly, especially if you intend to race in the rain or on any wet surface.
TIP: To apply WD-40, spray tires evenly, making sure to avoid the brakes. If you do accidentally spray the brakes, you may have difficulties changing the brake pads in the future. 
Will Bigger Tires Improve an RC Car's Speed?
Going with slightly bigger tires for your RC car compared to what is recommended can make it go faster overall. However, there are few downsides to that approach. Increasing the tire size also increases the level of strain the vehicle will go through at every turn.
NOTE: There's the possibility of electronics overheating due to the excess pressure and the acceleration mechanism getting damaged.
Even the slightest weight increase can significantly affect how your car holds up. Some people choose lower gearing as a way to reduce the strain. However, this approach will end up lowering the overall performance also.
To get the best performance from your RC car, you must maintain the recommended tire sizes. Don't deviate from the tire size that came pre-installed.
How To Detach RC Car Tires?
When changing your RC car tires, one of the main challenges you'll face is detaching the tire in the first place. This requires weakening the glue binding the rim and tire. This can be done various ways, but only a few methods ensure the rim or tires remain salvageable when you're done.
Below are some of the ways you can detach your tires from the rims.
1. The Acetone Method
This method requires you to have a paintbrush, disposable gloves, an empty tin, and a liter of acetone. To get the job done:
Fill the empty tin using acetone and dip the wheels in the bottom.
Seal up the tin after putting the wheels in the bottom to ensure the acetone doesn't evaporate.
Give it a day or two for the glue to dissolve, then pull out the wheels.
Once the wheels are taken out, you may notice portions of glue still on the wheel. Rub these spots with some acetone using your paintbrush, and the remaining glue will dissolve.
The previous exposure to acetone will make this process a lot faster. Acetone is a bit pricey, but a full tin can last a whole year of regular RC car tire replacements when properly stored. Simply keep the unused portion sealed tightly in its can to avoid evaporation.
2. The Food Steamer Pan Method
For this method, you only need a vegetable steamer that has a lid and some water.
Place the wheels inside the steamer.
Put the wheels in the top tray and fill the steamer with boiling water.
Steam the wheels for 45 minutes to weaken the glue. If you still have trouble removing the glue at this point, steam for a little longer or raise the temperature of the water.
Don't have acetone or a food steamer? No problem! There are plenty of videos from the online RC car community that share other glue removal methods. Here's one to check out:
And here's a tutorial for using the boiling method:
How To Glue RC Car Wheels Properly?
This part of the tire replacement process is one of the most challenging for first-timers. It's a slow process at first, but with more replacements, you'll eventually develop a routine that's easy for you.
I always tell newbies to take things slow at this step. Don't rush anything, or your tires could come off your rims when you're on the tracks.
Here's how to glue RC car wheels properly:
1. Clean the rims and tires
A cleaner surface makes it easier for the glue to stick. With the surfaces clean, put an insert into the tire to keep the rim in place. As I've mentioned above, your inserts can be the standard foam options or the molded ones made of stiffer material. I prefer to work with standard inserts as they are easier to manipulate. However, they require making a few cuts to help fit it inside the tire.
2. Mount the tire onto the rim
Stretch the tire a few times to simplify the process. Ensure the tire sides are sitting neatly on the rim. If you have a tight tire that won't fit even after stretching, try rolling out the dents in a back and forth motion. If you find some space between the rim and tire after the first few rolls, it's best to just restart this step and try again.
3. Glue the wheel
Glue the wheel by pulling back the tire until you can see a clear separation, then apply the glue on areas where the tire will rest. Be sure to use glue designed for use with RC cars for this process. Like most members of the RC community, I prefer to use runny glue that can get into tight areas between the tire and rim.
4. Press the tire firmly
Press the tire firmly down onto the rim to ensure a strong bond. You may use your hand if you wish, though I like to use rubber bands to maintain the pressure for around ten minutes after wrapping the tires around the wheel. After some time, stretch parts of the tires gently to confirm how well the glue has bonded.
How To Replace the Wheels on the RC Car?
With the tire changed, it's time to replace the wheels on the RC car. To complete the installation, you'll need a stand and a hex wrench.
1. Place the car on the stand
Most models come with stands in the box, but if you don't have one of these, you can use anything else you can find to serve as a stand. Just ensure the wheels are off the ground (just like when you're changing standard car wheels).
2. Loosen the nuts using your hex wrench
This should also come in the box with your RC car. The wrench has four sides of different sizes. Turn the wrench anti-clockwise to loosen the nuts.
3. Mount the new tires and tighten the nuts
Once the old wheels come off, mount the new tires and tighten the nuts again. When mounting the new wheels, you need to ensure you've reattached the wheels to the axle before tightening. Avoid tightening too hard, or the next replacement process will be a lot more difficult than necessary.
Read next