This page contains affiliate links, As an Amazon Associate, I earn from qualifying purchases (with no extra cost to you).
Learn more
Many people around the world enjoy operating radio-controlled vehicles as a hobby and in competitive environments. Aside from RC racing, a popular radio-controlled vehicle sport is RC bashing.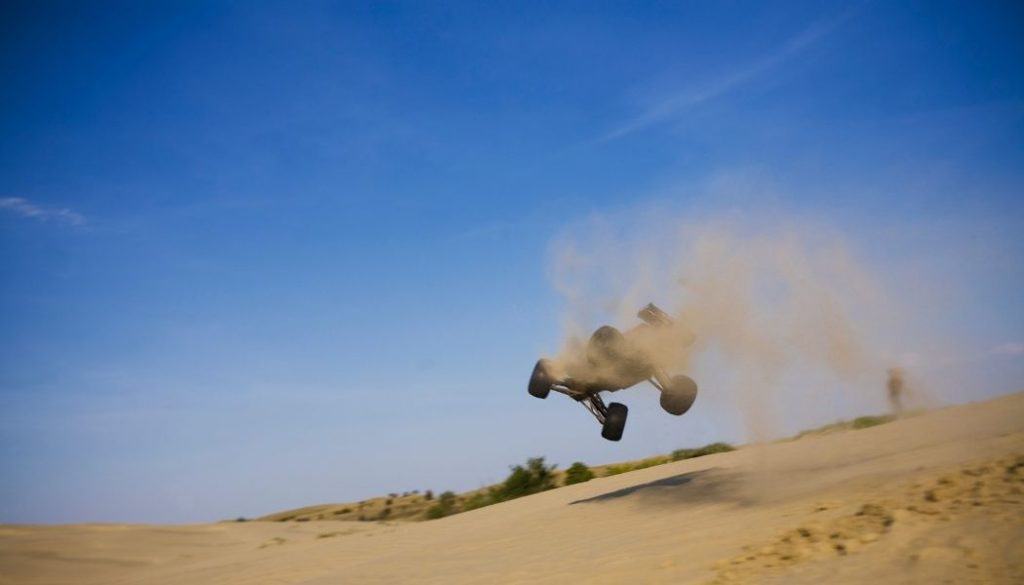 An RC bashing is when an individual operates a radio-controlled vehicle outside of regulated and competitive environments. Someone engaged in RC bashing may operate an RC car in a variety of rough terrains. RC bashing does not require operators to follow the same rules as RC racing.
This article explores everything you need to know about RC bashing, including what RC bashing is and what models of cars you can use for RC bashing.
What's the Difference Between Bashing and Racing?
To understand what RC bashing is, it's helpful to compare it to the better known style of RC racing.
RC Racing
As you may know, RC racing involves racing RC cars or other vehicles in a competitive or formal environment. RC Racing typically happens on an organized race track. RC Racers need to follow a strict collection of rules and regulations designed by the tracks they are competing on. 
If you win an RC Racing event, you may win a monetary prize or a ribbon or award.
RC Bashing
RC bashing, also known as backyard bashing, is the act of operating a radio-controlled car for recreation. RC Bashing does not involve competing or racing a car.
Because RC bashing doesn't involve competition, there are no rules for using your RC for bashing. During an RC bashing, you can make high jumps without worrying about the landing, run your RC car for several hours, and not have to worry about crashing the vehicle.
When RC Bashing, you can also use 'outlaw vehicles' which don't comply with racing regulations. For instance, when RC bashing, your vehicle can have an engine exceeding 0.12–0.35 cubic inches (2.0–5.7 cubic cm) – a size that is not allowed in RC racing competitions.
RC bashing can happen in any environment, from an indoor room to an outdoor terrain.
Are You an RC Racer or RC Basher?
You can be both an RC racer and an RC basher. I enjoy both activities but prefer to use different car models when RC Bashing. Chem my post about best rc bashers. Below my top two choices:
What To Look For When Buying an RC Basher?
When looking to buy an RC bashing model, there are several things you should keep in mind:
1. Look for a Low Maintenance, Hardy Car
Since you will be racing your RC car without following any rules or regulations, it will most likely take a few hits and crashes. Therefore, it is essential to look for a dardy, durable car that can take a few bashings without falling apart.
2. Look for Vehicles That Are Low or Medium Cost
If you will be experimenting with RC bashing, you probably don't want to be wrecking expensive cars. I suggest you look for a moderately priced one so you don't spend a fortune every time you have to maintain it – or when beyond repair, get a new one.
3. Choose Durability Over Low Weight
RC racers tend to look for a vehicle that is lightweight because they know it can move faster. RC bashers, on the other hand, will do the opposite. For bashing, it's best to choose a heavier car than a lighter one because the extra weight makes it more durable.
4. Look for Good Ground Clearance
Models for RC bashing should have a decent ground clearance since you will likely be running them on different terrains. Most models made for bashing should have good ground clearance factored into the design, but it's always best to check the car's measurements to verify.
RC Bashing Car Models To Consider
There are several RC models that I consider suitable for RC bashing in addition to my best 5 list. This are some of the best models on the market.
This model is perhaps one of the most expensive RC bashing models on the market, but it's rugged, durable, and offers excellent value for money.
Pros
There are many features of this model that make it an excellent vehicle for RC bashing, including:
High clearance and compact transmission for added durability
Premium 1.9 method hole wheels, 35T brushed motor, TTX200 2.4GHz 2-channel transmitter, and a channel receiver
A 4-link suspension for navigation through rough terrains
Cons
Some of the cons of this model include:
Cost. This model is quite expensive. Sold at more than $300, the price doesn't include a battery or charger – you'll have to buy these separately, which will add to the overall cost.
Plastic gear. Some users note that the model functions better when some plastic gear, such as the steering, is upgraded to metal gear. This makes the model sturdier, but adds to the cost.
This is a rugged, durable truck at a pocket-friendly price. It's manufactured by Traxxas, one of the largest and most popular RC manufacturers in the world.
Pros
This model is appealing for RC Bashing for a variety of reasons:
It's durable. This model is marketed as being extremely durable. Users of the model confirm this, reporting it can handle various terrains, including pavement, dirt, and grass. It has oil-filled shocks and a four-wheel independent suspension, which add to the vehicle's durability.
Its speed. This truck can run up to 30 miles (48.28 km) per hour, which is a decent speed for a durable vehicle. Such a speed means this truck can also be used for racing.
It's waterproof. This model has waterproof electronics and can continue to function even if it has been submerged in water or mud.
Cons
While the truck is highly durable, it does have a few cons:
This model doesn't come with a battery or charger, so it's essential to factor in a separate battery and charger cost.
Some users find that Traxxas doesn't offer good customer support.
This RC car is both durable and affordable, making it an excellent choice for RC bashing.
Pros
Aside from being pocket friendly, there are several other pros about this model:
The model includes all the components it needs to run, including a battery and charger.
It has oil-filled shocks and adjustable suspension, which allows it to handle rough and uneven terrains.
Its brushed electric motor can reach speeds of 17-19 miles (27.36-30.58 km) an hour.
It can be upgraded to move faster.
Cons
It's important to remember that, as in all areas, you get what you pay for in this model. Some of the cons include:
Less durability. While it's affordable, it'll be less durable than other, more expensive models and won't last as long, especially if you engage in extreme RC bashing.
Low battery life. Some users note that this model has a low battery life and needs to be charged very often.
This New Bright Model is also highly pocket-friendly and is an excellent option for beginners and children.
Pros
The main pro of this model is its low cost. Other positive aspects of the model include:
It's fully assembled and can be used as soon as it arrives.
It can handle most terrains. While the tires may occasionally slide off when the model collides into rocks, trees, or other obstructions, they can easily be fixed back on.
Cons
Users report that the model isn't as durable as other RC bashing models. Some of the other cons to note include:
It's slower than other models.
The suspension is made from plastic, which makes it more vulnerable to damage.
Read Next