This page contains affiliate links, As an Amazon Associate, I earn from qualifying purchases (with no extra cost to you).
Learn more
It's not easy choosing between a Traxxas Slash or Rustler. They're both excellent examples of Traxxas's expertise in the RC field. Still, let me see what I can do to answer the question of what's better.
What's better between Traxxas Slash or Rustler will depend on where you plan to drive them. The Slash's higher ground clearance is great for bumpy and rocky terrain, while the Rustler is set lower to the ground and does well on hard surfaces. But either provide fun and excitement wherever you drive.
Obviously, there's a lot more to these two vehicles. So, below I'll get into the details to help you decide which option better suits your needs and driving style.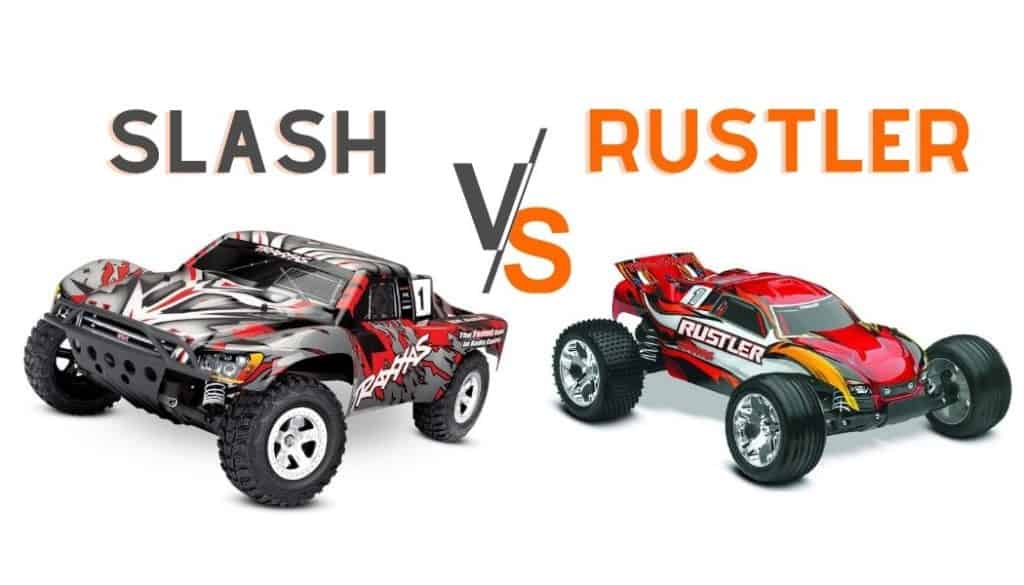 Similarities Between the Traxxas Slash and Rustler
Both the Slash and the Rustler are both ready to run. Well, once you've bought a battery and charger. But that's not the only feature they have in common.
Choice of 2WD and 4WD
I like that both these cars are available as 2WD or 4WD.
Some people prefer 2WD over 4WD for easier and cheaper maintenance, with fewer parts that can go wrong.
2WD models are also cheaper than 4WD to buy. That makes 2WDs a great way to explore the hobby without shelling out too much money.
Because the Slash and Rustler both come in 2WD and 4WD, it means I'm not forced into a choice based on my drive-type preference.
Choice of Brushed or Brushless Motor
The basic models in each range come with the Titan 12T 550 brushed electric motor. On the Slash, this gives a top speed of 30+mph if I install the 23-tooth pinion gear Traxxas includes in the box.
The Rustler has a slightly higher top speed of 35+mph. However, that's with the 28-tooth pinion gear that Traxxas includes in the package.
For the brushless versions, both use the Velineon 3500. If I stick in a 3s LiPo battery with the included high-speed pinion gear into either brushless car, this motor will give me 60+mph. On the Rustler, I can ramp this up to 65+mph if I buy additional high-speed gearing.
KEEP IN MIND : Brushless motors tend to last longer than brushed, which I think outweighs the extra cost. 
But, whichever I prefer, it doesn't need to determine my choice between the Slash and Rustler since each has brushed and brushless versions.
Comparable Model Options in Each Range
It's not just the drive and motor types available with these models that are the same. There's also a similar array of model options.
For example, both the Slash and Rustler have models incorporating the Traxxas iD battery and charger technology. The ID technology makes LiPo battery charging easier and more convenient. It takes the worry out of whether I've correctly set up charging so I don't damage my batteries.
If I want a model with Traxxas Stability Management technology, that's no problem either. Traxxas offers both models with this handy feature.
Similarly, if I want a 2WD with a brushless motor instead of the brushed motor on the entry-level models, I can get this on both the Slash and Rustler.
Traxxas Slash Short Course Truck
Similarities like those I've highlighted above can make it harder to choose between the Slash and the Rustler. So, I'll look next at some distinguishing features that I like on each. I'll also mention some of the not-so-good points.
I'll start by looking at the Traxxas Slash since it's a classic when it comes to short course trucks. You can see an example of real short course trucks in the video below:
What I Like Best About the Slash
The Slash is a model I love because it's a great RC all-rounder. It's at home on hard surfaces like concrete or asphalt. But with its high ground clearance of 3.5" (89mm),the Traxxas Slash 2WD XL-5 Racing Truck also performs well on rough, rocky terrain.
Although the Traxxas Slash 4WD VXL Truck's ground clearance is lower at 2.83" (72mm), it's still high enough to deal with rocks and bumps without issue.
Overall, the Slash is a versatile performer and great fun to drive on all terrains.
KEEP IN MIND:  Slash's high center of gravity isn't so good for racing. It makes the Slash more prone to rolling, especially when I'm cornering at speed. 
Still, I can overcome this issue with a low center of gravity chassis conversion for not too much money. This Traxxas 5830 Low-CG Conversion Kit lowers the chassis 1" (25.4mm), which makes a huge difference to the car's handling.
One feature I really like about the Slash is how it replicates the liveries of real short course race trucks. It gives the Slash a realistic look of being a truly scaled-down version of the real thing.
The Slash is also extremely durable, so I don't need to worry too much about colliding with obstacles or even other RC vehicles. Certainly, having the tires enclosed under the arches helps with durability. The good-sized bumpers at the front and rear are also a big plus for protecting the body.
Plus, the Slash not only looks and feels more weighty, itt actually is! It comes in at 76.2oz (2.16 kg) for the 2WD and around 93.1oz (2.64 kg) for the 4WD.
In general, I know the Slash is resilient and will stand up to a lot of abuse. That makes for a relaxing RC experience and less expense on replacement parts.
Admittedly, it's not the best if I want to do crazy jumps because the Slash's body isn't too streamlined. The body seems to catch the air and act as a parachute, making it tricky to control.
Slash Pros
The Slash is durable enough to withstand heavy-duty bashing sessions on all terrains.
Its higher ground clearance makes it ideal for bumpy and rough terrains.
The accurate replication of real short course trucks adds to the enjoyment of ownership and use.
Slash Cons
The ground clearance gives the Slash a higher center of gravity, which can sometimes make it prone to rolling.
It's not the best jumper because its body seems to act as a parachute once airborne, making it hard to control.
With the wheels under the arches, on loose surfaces, the flying debris can accumulate under the body, meaning lots of cleaning to do.
The entry-level 2WD is a bit more pricey than the Rustler, which may make a difference if you're on a tight budget.
Traxxas Rustler Stadium Truck
Let me turn now to the Traxxas Rustler. This is a stadium truck with the characteristic exposed wheels that sit away from the body.
What I Like Best About the Rustler
The Traxxas Rustler XL-5 Truck's low ground clearance of around 2.4" (61mm), with its 2.8" (71mm) wide wheels, gives it a low center of gravity. This provides excellent stability and handling. On the higher-spec Traxxas Rustler VXL, a brushless model has a ground clearance of only 1.1" (27mm).
The Rustler is perfect for racing and high-speed cornering on hard surfaces with this low center of gravity, meaning I don't have to waste too much time recovering my Rustler from flips and rolls.
That's not to say I can't run it on rougher terrain, because I certainly can – though larger rocks might flip it. But its stability makes it easy to land from those big jumps over mounds and ramps.
At the beginner level, the 2WD version of the Traxxas Rustler is slightly cheaper than the 2WD Slash. So, for anyone new to the RC hobby, the Rustler is the least expensive 2WD option.
One thing I like about the Rustler is that it's lightweight. The 2WD weighs only 59.6oz (1.69 kg). While the 4WD Brushless VXL version is heavier at 82oz (2.32 kg), it's still lighter than the 4WD VXL Slash. I feel the lighter weight of the Rustler helps with acceleration and speed.
Its wide tracks enhance its stability and make it easy to handle. On the 2WD, the front and rear tracks measure 12.25" (311mm), but on the 4WD VXL, they are 12.94" (329mm). Both are wider than the 2WD and 4WD Slash models, which come in at 11.65" (296mm).
NOTE: Low center of gravity means there's little ground clearance. So when it lands from a jump, the Rustler often bottoms out and bounces around a lot on landing. That can eventually take a toll on the body.
I can probably deal with this issue by switching to heavier oil in the shocks. If that doesn't do the trick, I can upgrade the shocks to these Traxxas 7461X Hard-Anodized GTR Shocks. They're not too costly, so well worth considering if I want to do a lot of jumping.
You can watch a pretty detailed review of the Rustler 4WD VXL that mentions these options and other matters of interest in the video below.
While the basic Rustler has lots going for it, there are a couple of things I really like about the more expensive 4WD VXL Brushless Rustler.
For example, the higher-spec gives me a clipless body that makes it easier and quicker to remove the body from the chassis.
The brushless 4WD Rustler also has Traxxas' self-righting system. That way, if I do flip it, this system lets me get the Rustler back on its wheels simply by pressing a button on the transmitter instead of having to go and recover the car manually.
Rustler Pros
The low center of gravity gives the Rustler superb stability and handling.
Its wide wheels give it excellent traction, especially on hard surfaces.
The streamlined body makes it great for jumping distances.
The open wheels mean less accumulation of debris under the body on loose surfaces.
Its slightly lower price at entry-level makes it a good choice for beginners.
Rustler Cons
Low ground clearance may cause difficulties when running it on rocky ground and on jump landings.
Plastic front and rear driveshafts may be prone to damage on high-speed impact because they're so exposed.
Is Traxxas Slash or Rustler Better?
The answer to this question ultimately depends on what you want from your RC vehicle.
Both these cars are a bundle of fun to drive. Still, for heavy off-roading on tough terrain, I'd go with the Slash because of the higher ground clearance.
But for racing on hard surfaces, I'd probably opt for the Rustler because of its stability and better handling due to the lower center of gravity.
However, because the Slash does well on and off-road, it's the one I'd go with for a sturdy all-rounder.
Read Next