This page contains affiliate links, As an Amazon Associate, I earn from qualifying purchases (with no extra cost to you).
Learn more
RC monster trucks and short course RC trucks are two types of radio control vehicles. But even just between these two, it may be hard to tell which one is the better choice because they have their own advantages and disadvantages. So, how do you pick between the two?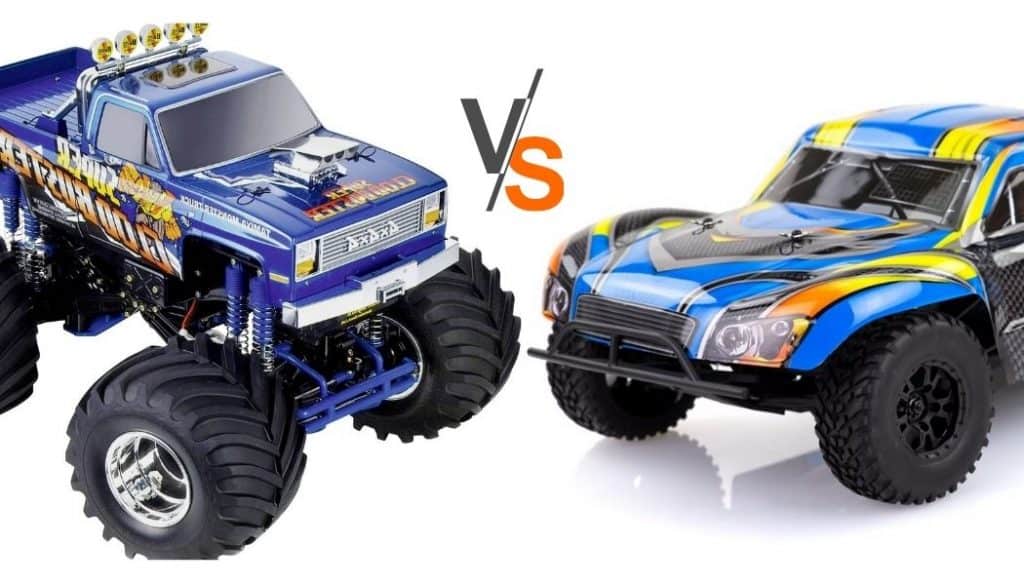 You should buy an RC monster truck if you want to roam freely in rough environments. It is designed to get through obstacles and uneven terrains, whereas a short course RC delivers speed on closed circuits or flat racecourses with ramps. Therefore, for racing on the tracks, get a short course RC.
Read on as I take you through the differences between an RC monster truck and a short course RC truck so you will know which of the two you should get. I also came up with some recommendations for monster trucks and short course RC vehicles and a review for each product.
What We Need To Know about RC Monster Trucks?
A radio-controlled monster truck is a specialized RC vehicle that features a high suspension, so it can easily go over obstacles and has oversized tires to travel along all kinds of surfaces, such as:
Grass
Dunes
Sticks
Dirt and gravel
Pavement
Puddles
Rough, uneven terrain
It also has a wide wheelbase for stability, so whether it's facing a bumpy, rocky, muddy, or wet trail, it won't have problems running and staying upright.
RC Monster Trucks Are Great for Bashing
RC monster trucks are mainly designed for entertainment and recreational purposes. You can get one if you just want an RC vehicle for bashing, a term coined by RC enthusiasts for anything that is not racing, including high jumps and rough landings.
Bashing is also used to refer to racing without any of the usual competition rules and guidelines. Instead, you just race against others to test the limits of your RC truck. As such, RC monster trucks are built to be durable and to survive lots of abuse.
Here's a compilation video of RC trucks bashing:
RC Monster Truck Recommendations
Below are some of the best RC monster truck brands and models recommended by RC enthusiasts and hobbyists.
Each is available on Amazon.com, though some may be on backorder. It's a good idea to keep checking on these as there is high demand.
The Traxxas Stampede monster truck is durable, allowing you to explore its limits without having to worry about it getting damaged. And while this is a powerful RC vehicle, you can upgrade its plastic components to aluminum ones to make it longer lasting.
Moreover, even if it is a hobby-grade RTR, it's easy to operate, and kids can quickly learn to drive it.
The Traxxas Stampede is fully assembled out of the box and accepts standard 7-cell NiMH batteries up to 3S 11.1V Lipo.
This monster truck also has heavy-duty turnbuckles, steel-geared transmission, and waterproof electronics, so you can take it through water, snow, and mud without damage.
It features three driving modes: race, sport, and training. The training mode allows new drivers to learn and master the truck by limiting its power to 50 percent.
Below are some key features:
| | |
| --- | --- |
| Manufacturer | Traxxas |
| Model | 36076-4 |
| Dimensions | 16.25 x 12.75 x 9.5 inches (41.28 x 32.39 x 24.13 centimeters) |
| Weight | 7.5 lbs (3.4 kg) |
| Powered by | 7-cell NiMH batteries |
| Material | Steel and plastic |
| Speed | 65+ mph (104+ kph) |
| Scale | 1/10 |
Pros of Traxxas Stampede
Boasts a top speed of over 65 mph (104 kph) if you put in a 3S Lipo battery.
Integrates the Traxxas stability management technology, which allows for a straight acceleration without loss of control, even on a slippery surface.
Has a Torque-Control slipper clutch, so it can deal with serious horsepower.
Has an adjustable TWi 2.4GHz transmitter that you can equip with a Bluetooth module, allowing you to use your mobile device as a tuning tool.
Has built-in low-voltage protection.
Cons of Traxxas Stampede
Does not come with its own set of battery pack and charger, so you need to buy them separately.
Plastic parts will break if you use powerful batteries, so you need to replace them with aluminum parts.
The front part of the truck needs a little more weight so it doesn't stay off the ground when running fast.
The ARRMA 1/5 Kraton 8S BLX Speed Monster Truck boasts a triangular center brace structure for maximum durability, so you can drive this truck in the roughest of terrains, and you would be assured of optimal performance.
It's easy-access, waterproof, and dustproof, making it easy to maintain. Plus, it's fast, tough, and capable of running at a speed of over 55 mph (88.5 kph) in optimum driving conditions and when powered with 8S LiPo batteries and fitted with the optional pinion gear.
The Kraton is ready to run out of the box and has a Spektrum Firma 1250Kv brushless motor, a laser-etched aluminum anodized chassis plate, and a heavy-duty dual spring servo saver.
The all-metal internal gears, shafts, turnbuckles, and outdrives give the suspension system and massive drivetrain power. Its integrated fan helps reduce heat during continuous and extreme running.
Below are some key features:
| | |
| --- | --- |
| Manufacturer | ARRMA |
| Model | ARA110002T1 |
| Dimensions | 34.1 x 25.5 x 12.6 inches (86.61 x 64.77 x 32 centimeters) |
| Weight | 38 lbs (17.24 kg) |
| Powered by | 8S LiPo (2 x 4S LiPo batteries) |
| Material | Alloy steel |
| Speed | 55+ mph (88+ kph) |
| Scale | 1/5 |
Pros of ARRMA Kraton Monster Truck
Multi-split spoke wheels paired with durable wheel hubs give it increased strength.
Metal-reinforced design allows you to blast up and effortlessly go over obstacles.
Has low-voltage cut-off and thermal overload protection.
User-programmable punch and brake.
Has reverse speed and motor-timing settings.
Has a convenient voltage level indicator.
Easy-access three-bolt sliding motor mount that allows you to easily remove the motor for maintenance.
Well-balanced and won't flip over quickly.
Cons of ARRMA Kraton Monster Truck
Does not come with a battery and charger.
The big size and heavyweight make it ideal for intermediate to experienced RC hobbyists but intimidating for beginners.
Massive size could injure kids and animals that are in its way.
Extremely heavy, so plastic arms break easily.
Very expensive so it won't be a good practice car for newbies.
Known as "The Original Monster Truck," Bigfoot was the RC monster truck that started it all. Modeled after the real thing, this truck embodies monster trucking like no other.
With the stance of this truck, you won't have any issues bashing through any kind of terrain and since it comes ready to ride right out of the box with a watertight receiver box, you can take this truck out in any kind of weather.
Though Traxxas went to great detail to replicate the modified F-100 Ford XLT Ranger pickup, including a hefty chrome bumper, KC fog lights, and even a winch, this truck is still built to last.
| | |
| --- | --- |
| Manufacturer | Traxxas |
| Model | 36034-1 Bigfoot No. 1 2WD 1/10 Scale |
| Dimensions | 16.25 x 12.75 x 8.75 inches(41.28 x 32.39 x 22.23 centimeters) |
| Weight | 4.08 lbs (1.85 kg) |
| Powered by | Titan® 12-Turn 550 Motor |
| Material | Black composite parts |
| Speed | 30+ mph (48+ kph) |
| Scale | 1/10 |
Pros of Traxxas Bigfoot
The heavy-duty Lexan® BIGFOOT replica body is incredibly durable.
The Traxxas 4-amp fast charger means you don't have to wait as long between sessions.
The waterproofing allowed for all-weather bashing.
Cons of Traxxas Bigfoot
The various drive modes can take some getting used to.
You'll pay a premium for the Bigfoot name.
Doesn't include a wheelie bar.
It only comes with a 12 v car lighter charger, so you will need to buy the wall charger separately.
Can struggle with slopes in wet weather without 4×4.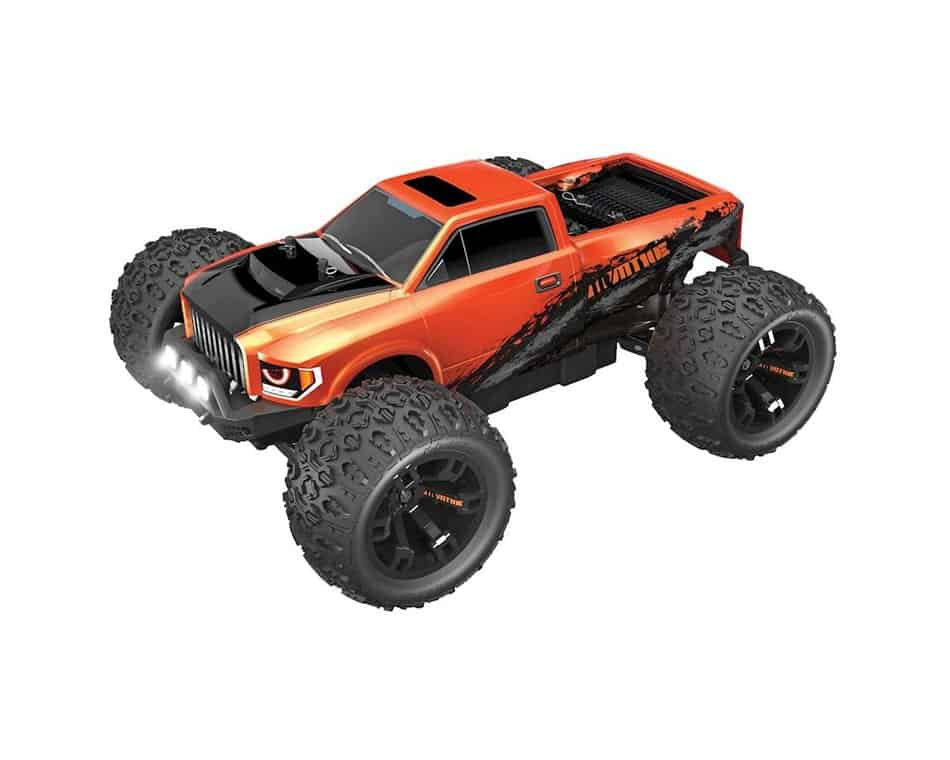 The Team Redcat TR-MT10E has adjustable or tunable suspension, gear differentials, and shocks, which means it can be fine-tuned in any way you want.
It also has an adjustable wheelie bar, quick-release battery straps, and a quick-access multiple-port plug. The waterproof electronics ensure it doesn't get damaged if it runs through mud and water puddles, and it was designed to be strong and durable so that you can take it for a spin in any terrain.
This RC monster truck is ready to run out of its box and boasts a brushless motor, a Savox metal gear digital steering servo, and a 2.4 GHz radio system.
| | |
| --- | --- |
| Manufacturer | Team Redcat |
| Model | TR-MT10E-Orange |
| Dimensions | 19 x 16 x 6.8 inches (48.26 x 40.64 x 32 centimeters) |
| Weight | 8.5 lbs (3.86 kg) |
| Powered by | 2S-3S LiPo batteries |
| Material | Plastic |
| Speed | 60+ mph (96+ kph) |
| Scale | 1/10 |
Pros of Team Redcat TR-MT10E
Plastic exterior is thick and high-quality, so it doesn't break easily.
Delivers fast speed and 15-foot (4.572-meter) jumps and tumbles.
Highly customizable.
Has adjustable ride height, toe angle, camber, and shock mounting positions.
Cons of Team Redcat TR-MT10E
Doesn't come with a battery and charger.
Bad remote control and receiver, which can make the truck go berserk if not replaced.
Very dense and heavy, so not ideal for beginners.
May need a routine inspection for loose screws after each bashing session.
What do I Need To Know About Short Course RC?
Short course RC trucks are built to deliver speed on flat tracks with a few ramps. They have smaller tires and lower suspension in order to give you more control as you maneuver it along the racecourse.
These vehicles are designed for winning RC races. While short course RC trucks are not focused on flying high in the air over jumps, they can quickly make it over jumps to get to the finish line.
When buying a short-course RC truck, you also need to decide between electric or fuel-powered and between RTR and kits.
Short Course RC Truck Recommendations
As in the above section, I've collected a couple of great short course RC trucks that come highly reviewed by hobbyists and beginners alike.
Again, this is a very popular hobby at the moment, so it's possible some will be out of stock on Amazon.com. Just keep checking back because they come in and out of stock quite often.
The Traxxas Slash boasts a Titan 12-Turn 550 modified motor, as well as an XL-5 ESC, that gives you up to 30 mph (40.28 kph) of speed.
This off-road powerhouse allows for all-weather driving, whether in snow, mud, and water, thanks to its waterproof electronics. Its radio system has an ergonomic design, so it is comfortable to use, and you don't have to worry about hand strain when racing for long periods.
This short course RC truck features a Titan 12T motor with an integrated cooling fan.
It has massive tires for better traction regardless of the terrain, while its competition-bred shocks absorb off-road abuse.
| | |
| --- | --- |
| Manufacturer | Traxxas |
| Model | 58024 RedX |
| Dimensions | 22.36 x 11.65 x 8.42 inches |
| Weight | 2.99 pounds |
| Powered by | Battery |
| Material | Steel |
| Speed | 30 mph (48 kph) |
| Scale | 1/10 |
Pros of Traxxas Slash Short Course Truck
Chassis design allows for huge center ground clearance, making it easy to drive over rocks, deep ruts, and other obstacles.
Features Traxxas' exclusive patented Training Mode, which cuts power to 50 percent as new drivers master running the truck.
Officially licensed BF Goodrich Mud-Terrain tires offer versatile grip on asphalt and other off-road terrain.
Tires are covered in fenders so you don't get tangled up with other cars when you bang against each other.
Cons of Traxxas Slash Short Course Truck
You Need to buy Battery seperately
The ARRMA Senton Short Course RC Truck offers all-terrain durability, so you can take it racing on uneven and rough surfaces without worrying about it getting damaged.
You get unstoppable performance with its strong chassis and retained hinge pin plates, and its ride height and body mounts are adjustable, so you can access inner components and do maintenance checks easily.
This ARRMA short course RC truck model has a Mega 12T brushed 550 motor with waterproof ESC. It also has a double-wishbone suspension and metal-geared differentials.
The new version of this truck includes new equipment to further improve its performance. It now has the Spektrum SLT3 transmitter and SLR300 receiver and comes fully assembled and is ready to run from out of the box.
| | |
| --- | --- |
| Manufacturer | ARRMA |
| Model | ARA4203V3T1 |
| Dimensions | 21.97 x 12.01 x 8.27 inches (55.8 x 30.5 x 21 centimeters) |
| Weight | 6.49 lbs (2.94 kg) |
| Powered by | Dynamite 3300mAh 8.4V 7-Cell Speedpack 2 Hump NiMH Battery |
| Material | rubber |
| Speed | 30 mph (48 kph) |
| Scale | 1/10 |
Pros of ARRMA Senton Short Course RC Truck
Has a design and mechanism that is optimized for bashing.
New version has improved the wheel and trigger force.
Features fast-response SLT protocol.
Offers 50 and 75 percent throttle mode, which makes it great for beginners still learning how to run RC trucks.
Has a powerful steering servo and high-capacity NiMH battery.
Boasts a power module with sliding gear mesh for improved dirt management.
Steering with more clearance for rocks, grass, and other obstacles on the track.
Cons of ARRMA Senton Short Course RC Truck
Battery takes six hours to recharge, which is long, so you would need to get spare battery packs if you don't want to wait.
Bumper is not as heavy-duty as claimed and does not absorb impact as well as promised.
Body gets damaged easily, according to some users.
Which RC Vehicle Is Right for You?
It's easy to look at each of the above models and be impressed by what they offer. But some beginners may have trouble discerning the differences.
With that in mind, I've got a few key things you'll need to consider that should help you make the right choice.
Monster Trucks Are More Consistent over More Surfaces
There are a number of different terrains out there, and depending on where you live, you might have no choice but to opt for the monster truck. Still, both of these excel in different areas, so let's take a quick look at a few common terrains to see which car does better.
Grass – if you live in the country, you'll want a car that can do well over grass. Both the Monster truck and the short course will drive over grass, but the monster truck's clearance will do better in tall, thick grass and weeds.
Concrete – again, both vehicles will drive well over concrete or pavement, but as I've mentioned above, short course cars will do better here due to the lower suspension.
Sand – the monster truck will win on sand because of the wide wheelbase that gives it better stability.
If you're not planning on racing, you should opt for the monster truck. Though it won't be as nimble, it will do better on all kinds of terrains and shouldn't struggle at all, no matter where you take it.
Whether you're driving over tall grass, deep snow, or soft sand, your monster truck will do you proud.
If You Want to Win Races, Go for the Short Course
As mentioned above, the monster truck will do better on more terrains. But, if you want to race, you'll need a lighter car.
Racing RC cars are designed to be lightweight, fast, and stable on corners. Short course cars tick every box, plus tracks typically are concrete, asphalt, or packed dirt, so you don't often need the higher clearance of the monster truck.
What To Look For When Choosing an RC Monster Truck
Not all RC vehicles were created equal, and these specific types of RC vehicles also come in different specifications. With that in mind, you will have to make choices between certain specs, such as toy-grade vs. hobby-grade, and electric vs. fuel-powered.
Toy-Grade vs. Hobby-Grade
If you are shopping for an RC monster truck or short course car, you have a choice between a toy-grade and hobby-grade RC. To get the right car for your needs, you need to know the primary differences between the two.
What are Toy-Grade RC vehicles?
Toy-grade RC vehicles are made with a focus on design and on using cheap components to minimize production costs. These components are hard to find as spare parts. However, because they have few components and you can get spare parts from other toy-grade cars or buy a new car altogether, maintenance is easier.
That said, toy-grade RC vehicles are not as particular with performance as hobby-grade RCs, so they have weaker motors. They are smaller, lighter, and cheaper, so kids can easily drive them.
What Are Hobby-Grade RC Vehicles?
Hobby-grade RC vehicles, on the other hand, are designed to have separate electronic components that you can individually upgrade or replace. As such, hobby-grade RCs are more expensive. These RCs are also built using high-quality materials that are more durable, can take more wear and tear, and will last longer. We are talking about materials like nylon composites and aluminum alloys.
Hobby-grade RCs also deliver much better performance and are capable of speed and more complicated movements.
Electric vs. Fuel-Powered
RC cars and trucks can be electric/battery-powered or fuel-powered, running on nitro or gasoline.
Electric Cars
Electric RCs are powered by a rechargeable battery, run faster and more quietly, and are cleaner and more environment-friendly. They are also low-maintenance, cheap to run, and do not need engine tuning,
However, because an electric RC's battery runs out of juice and needs to be recharged, there is some waiting time before you can resume running. Unless, of course, you have a spare battery that you could just swap in with the one in use.
Fuel-Powered Cars
Nitro cars run on nitromethane, methanol, and oil, and gas-powered cars run on a mix of motor oil and gasoline. Fuel-powered RCs have a loud engine, emit toxic exhaust fumes with an unpleasant smell, and require more mechanical work and maintenance.
Nitro and gas-powered RCs can generally run for a longer duration than electric cars, and once its fuel runs out, you just have to refill its tank and continue running.
RTR vs. Kits
When buying an RC vehicle, you may be asked to choose between a ready-to-run truck or an RC car kit, the former of which you can run and operate right out of the box.
Meanwhile, an RC car kit is something you will need to assemble yourself, and you may also need to add a few components.
Ready-to-Run
An RTR RC truck or car is the better choice for beginners or those who do not have the time to figure out how the car works. Instead of worrying about putting it together, which can be difficult if you opt for the fuel-powered engine with an RTR truck, there's no downtime before you can play.
My top two choices:
Click to Edit
Image
Title
Buy

Top

TOP QUALITY
1:16 Brushless Large RC Cars 55+ kmh Speed -4x4 Off Road Monster Truck Electric - All Terrain Waterproof Toys Trucks for Boys, Girls - 2 Batteries for 40+ Min Play
Check Price
BEST VALUE FOR MONEY
HAIBOXING 1:18 Scale All Terrain RC Car 18859E, 36 KPH High Speed 4WD Electric Vehicle with 2.4 GHz Remote Control, 4X4 Waterproof Off-Road Truck with Two Rechargeable Batteries
Check Price
RC Kits
More experienced RC enthusiasts and hobbyists prefer to get the kit because it gives them a lot of leeway for customization. And they usually have had the time to learn how each component works, too.
Most of the avid RC hobbyists have also built networks within the RC community, and they have shared some tips and pointers on how to optimize the performance of their remote-controlled cars.
They also know where to get the best deals and when it comes to RC spare parts and components.
Read Next