This page contains affiliate links, As an Amazon Associate, I earn from qualifying purchases (with no extra cost to you).
Learn more
While they might look like a toy from a distance, don't be fooled– a remote control boat can be a fun way to fish remotely. By attaching your bait to the back of the boat through various methods, you can stay safely ashore with the remote control in your hand and still see what is biting in the water.
One way you can fish with an RC boat is to connect the bait directly to the boat to catch smaller fish without the risk of your catch overpowering the motor. You can also use a line release mechanism if you want to reel in bigger fish by hand after they bite.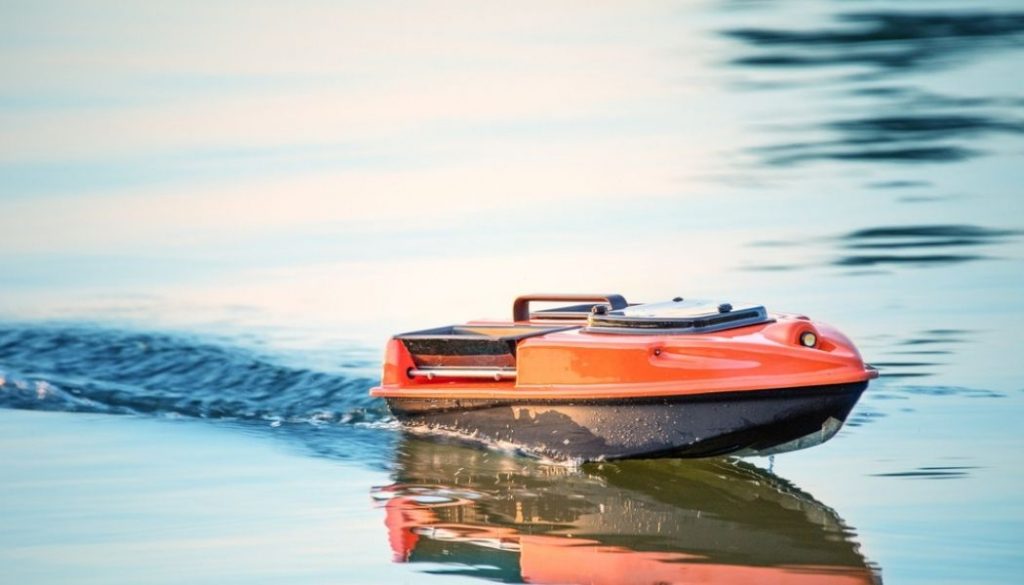 In the rest of this article, we'll explore the benefits of fishing with an RC boat and the different ways you can use this kind of boat on the water. With these tips, you can get started right away, choosing the perfect RC boat for you and getting it out on the water.
What are the Benefits, when Fish With an RC Boat?
There are many benefits you can experience if you choose to fish with an RC boat. Some of these benefits will vary depending on the model of the boat you choose. If you haven't gone shopping for your first RC boat yet, you can review these benefits to help you choose the best boat for you.
1. Long Distance Capabilities
Some of these RC boats have the range to go out on the water about half a kilometer (around a third of a mile) away from shore. This is a great feature if you are looking to attract some fish that hang out in deeper waters. You can easily maneuver your boat to whatever spot the fish are swimming in that day in order to get your best catch.
2. Bait Options
RC boats come in different styles to let you choose how you want to use your bait. Some boats have a compartment built to load up with bait and then project into the water when you find your ideal fishing spot. These are called bait buckets and can be filled with your bait of choice. Chum or another attractive option will help bring the fish to you.
If your boat comes with bait buckets, you can often attach your fishing line to the buckets. When you release your buckets out in the water, the line will be optimally positioned to hook and catch fish. If your boat doesn't come with bait buckets, you'll be able to attach your line to another place on the back of the boat.
3. Ergonomic Remote Control
Another great feature of many RC boats is the innovative remote controls. These are often designed to be used with one hand, making them intuitive and easy to adjust to. You can guide your boat using a small joystick and release the bait buckets with a touch of a button. You'll quickly get used to the easy operating system to have full control over your boat out on the water.
The one-handed design of this remote makes your other hand free for other important fishing tasks. You may choose to be holding your fishing rod in the other hand, waiting for a bite. Or you may want to be operating a camera to capture your RC boat in action.
4. Easy Transportation
RC boats tend to be compact and easy to move around. Some may even come with a handle on top to carry easily. You can easily transport it between the seats of your vehicle or in the trunk of your car. They can be carried easily by hand as they tend not to weigh too much.
5. Multiple Motors for Optimal Control
Some RC boats will come equipped with two different motors. This design helps give you more control over the speed of the boat. If you want the boat to go slower, one engine will be in operation. For higher speeds and more power, both of the motors will kick in to deliver the desired performance.
6. Long Battery Life
When your RC boat is fully charged, it can last for several hours out on the water. You can check the specifications of your particular boat, but it isn't uncommon for these boats to run for around four hours. You can easily charge the boat when you get home to be ready for the next fishing adventure.
7. Night Fishing Equipped
If you're a fan of night fishing, you may want to choose a model with lights. Many RC boats will come equipped with small lights that are ideal if you want to take your boat out on the water at night. They'll provide just enough visibility for you to keep an eye on your boat without disturbing the fish swimming below.
8. Affordable
If you're curious about fishing with an RC boat, the good news is that you don't have to invest too much money upfront to try one out. You can find affordable models that won't break the bank and will give you a sense of what it's like to fish in this way. If you decide you want a higher-end RC boat, more advanced models are available with higher price tags.
To see some of these features mentioned above in action, check out this Youtube review:
How To Fish With Your RC Boat?
If you've decided that fishing with an RC boat is right for you, now it's time to explore the different ways in which you can use your boat.
You can use it to release bait into the water, directly attach a line with bait to the back of the boat, or use a line release mechanism to reel the fish in manually from shore. More accurately, though, RC boats can be used in any way that the angler can imagine.
Bait Boat
If you choose a boat with bait buckets, you can use your boat to send chum or other tasty bait into the water to attract the fish. From here, you can reel the fish in through any other method you prefer.
This could be through a line attached to your RC boat, or you could choose to cast your line out from shore. This method is most effective if you're situated rather close to the spot you wish to fish from.
I recommend these three bait boats:
Top

TOP QUALITY
AHWZ Fish Finder - RC Boat - Fishing Bait Boat Fish Finder 2Kg Loading 500M Remote Control Double Motor Night Light,Boat with Fish Finder
Check Price
BEST ON BUDGET
RC Bait Boat for Fishing with Remote Control, Bait Boat for Carp Fishing, 2KG Load, 2 Motors, 500 Meters Range, Cruise Control
Check Price
BEST VALUE FOR MONEY
RC Fishing Bait Boat, GPS Positioning Automatic Return, Three Warehouse Bait Boat, Dual-Engine Remote Control Fishing Boat Fishing Tools,,Black,GPS 12000MAH
Check Price
Direct Line
Another method you can use for your RC boat is with a direct fishing line. You can attach your line and hook to the back of the boat or on the bait bucket. Remember that if you're in a spot with bigger fish, some may be more powerful than your boat. These can easily drag your boat under the water and out of your control.
At best, this is inconvenient as you helplessly watch your boat go underwater. However, at worst, it can cause danger to the fish if they become attached to the boat. The line may break, and the fish may be free, but it's best to keep the risks in mind when choosing this style of fishing.
Line Release Mechanism
Using a line release mechanism with your RC boat will allow you the most amount of control and capacity to catch the biggest fish. You'll keep your rod in your hand as the line is fed through the back of the boat and the line release mechanism.
Once you send your boat out into the water and get a bite, the line release mechanism will activate, transferring the control back into your hands.
At this point, you'll be able to reel the fish in just as you would when casting your line out without the RC boat. This gives you the most amount of control and the ability to keep bigger fish on the hook. You can use your skills and finesse as a fisherman most optimally using this method.
Read next