This page contains affiliate links, As an Amazon Associate, I earn from qualifying purchases (with no extra cost to you).
Learn more
Your model train will be something to bring enjoyment to you and your family for many years if it's properly maintained and well-cared for. One of the most important things you can do for your locomotive is kept the track and wheels clean. However, if cleaning isn't done improperly, you can cause damage to your train.
To clean model train wheels, damp a paper towel with isopropyl alcohol and rub it against the tires or holes beneath the train. If the buildup is heavy, use more advanced tools like an air duster or a specialized cleaning brush. Also, keep the tracks clean to prevent grimy wheels.
Throughout this article, you'll learn how to care for and clean your model train wheels such as:
What kinds of tools and techniques you should (or shouldn't) use.
Tips for light and heavy cleaning.
The best way to prevent buildup on your model train's wheels.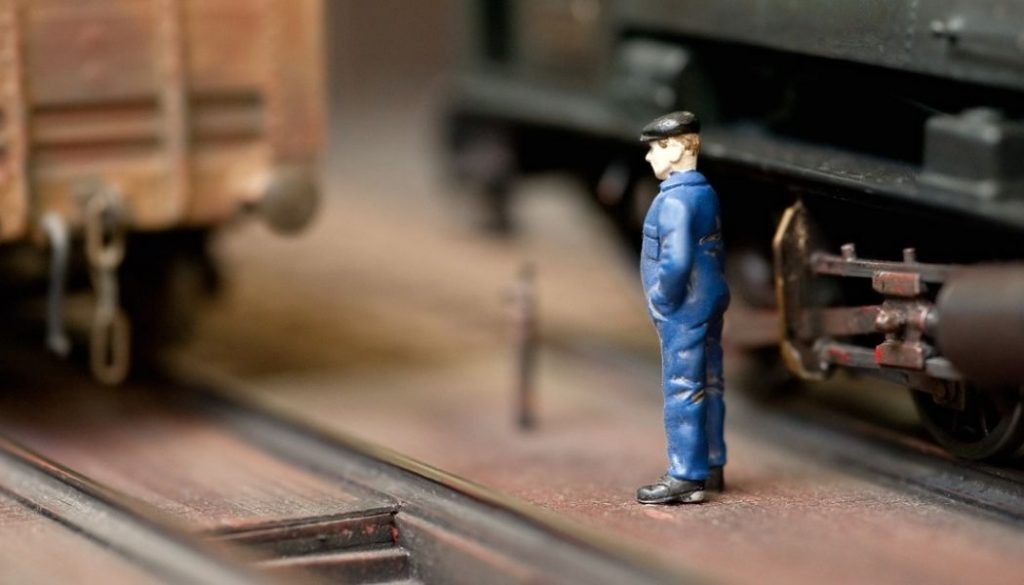 How do you Clean Model Train Wheels?
It's essential to keep your train's wheels free of dust and debris to ensure good contact with the track. A good practice is to regularly wipe down the wheels and tracks with isopropyl alcohol and a soft, lint-free cloth. Isopropyl alcohol is safe for use on electronics, and you can apply it to both metal and rubber wheels without risking damage.
Follow these steps to remove light buildup on your model train wheels:
Soak a paper towel in liquid cleaner or isopropyl alcohol. You can use highly diluted soapy water, but you'll need to remember to rinse it off afterward.
Lay the paper towel on a solid surface like a countertop, and place the locomotive on top of the towel.
Gently roll the train car back and forth on the paper towel, or if you can power on the car, you can let the wheels spin automatically while gently pressing them against the towel.
Use another paper towel or small brush to clean the metal contacts and the sides of each wheel.
Remove any soap residue with a damp paper towel and let the wheels dry entirely.
Why Should You Clean Your Model Train Wheels?
It's important to keep your model train wheels clean because any dirt and debris will prevent your locomotive from running smoothly. Whether your trains are stationary or you run them daily, they'll collect dust and buildup that can affect the train's connectivity.
Any grime on your wheels can cause trouble all over your tracks, so you must take the time to remove any debris before it becomes problematic.
Tools for Cleaning Model Train Wheels
Many tools on the market are specially made for cleaning your locomotive and its wheels. An easy way to remove light or heavy buildup is to use a cleaning brush designed for your train's scale.
These are good options if you need something a little more heavy-duty than a paper towel:
Air Dusters
To remove surface dust and lose waste on your wheels, all you need is sometimes an air blower.
Compressed air cans such as Falcon Dust-Off Electronics on amazon.com are an affordable option. This one is available in four packs with ten ounces of compressed air.
Error: Unknown Link Type
But if you need something more permanent, invest in an electric air duster that doesn't run out of air, such as Cordless Air Duster from Amazon. You can charge this battery-powered device using your smartphone charging cable. It blows a forceful thrust of air, and has a thin nozzle to clean the tiniest gaps around the wheels.
Powered Brushes
The Trix HO locomotive wheel cleaning brush will save you time because it cleans both the wheels and the track, and it'll also work on an OO scale locomotive. The brush is about 5 inches (12.7 cm) long, but you can connect more than one together for longer trains.
To use the Trix brush, put it on the track with the train car on top of the brushes. When the vehicle receives power, the wheels spin on the brushes and remove buildup without much effort.
Another popular option is the Woodland Scenics Tidy Track roto-wheel cleaner. This tool will clean all of your wheels at once and remove even stubborn debris, which will help ensure that your train is always running smoothly.
Unlike the Trix brush, this cleaner has wires that connect to the track and power the locomotive's wheels to spin. You can even place it directly onto the track like the Trix brush if you prefer. I like the Tidy Track because you can also purchase Woodland Scenics replacement pads from Amazon.com when yours become worn or dirty, and they fit both N and HO scales.
For N-scale trains, you can try the Gaugemaster GM59 wheel cleaning brush (available on Amazon). The brass brushes on this tool will clean the wheels with little effort, as you simply place it on the track and hold the train car on top.
For more detailed cleaning in small areas and contacts, I highly recommend the Kadee Speedi . It'll help clean the wheels and contacts very quickly. It supplies its power by clamping to the track. This is a must-have for your cleaning tool kit.
Manual Brushes
Small, manual brushes are great for light cleaning. They can get into the tiny spaces around your train's wheels, and they're available in different types and varying softness to fit your needs.
One manual tool that does a great job on model trains is a fiberglass jeweler's pen. They're slightly abrasive so that they'll get the gunky residue off your train's wheels very quickly. I like this 4-pack brush set from the Pixies store because you can use them for many purposes. The fiberglass pen will make it easy to remove buildup from the contacts and around the wheels.
Many people also like to use everyday household items for cleaning. A soft-bristled toothbrush can be very effective for cleaning wheels, and a cotton swab soaked in isopropyl alcohol or another mild cleanser can be great for getting in the small spaces around the wheels.
What Shouldn't I Use To Clean Model Train Wheels?
You should never use anything abrasive to clean your model train components unless it's designed for use on locomotives and rail sets. Avoid steel wool as it can remove the finish from your train. You should also avoid WD-40.
It's always a good idea to use mild cleansers, like Bachmann's Rail & Road Cleaner, or a substance like Goo Gone for sticky buildup. To make your model train wheels smoother, use a lubricant designed especially for such rail sets, like Bachmann's E-Z Lube. Bachmann's line is great because its items are compatible with all scales, so you won't need to purchase multiple products.
How to Prevent Buildup on Model Train Wheels?
The best way to prevent this type of buildup on the train's wheels is to keep the track clean. Any debris on the track will ultimately end up on the wheels and be carried all over the rail.
You can follow many of the same guidelines for cleaning your wheels to keep the track clean, as well.
You can use isopropyl alcohol and a soft cloth or paper towel to clean most rail system parts, including the track.
It's a good idea to wipe it down after each use to keep your wheels from rolling through any dust and dirt.
An excellent all-in-one cleaner you can use on your track and wheels is this Track Magic track cleaner from Deluxe Materials. Track magic will quickly clean up your track rails and help improve connectivity. You may even find that your train runs more smoothly after a thorough cleaning with this solution.
Read Next